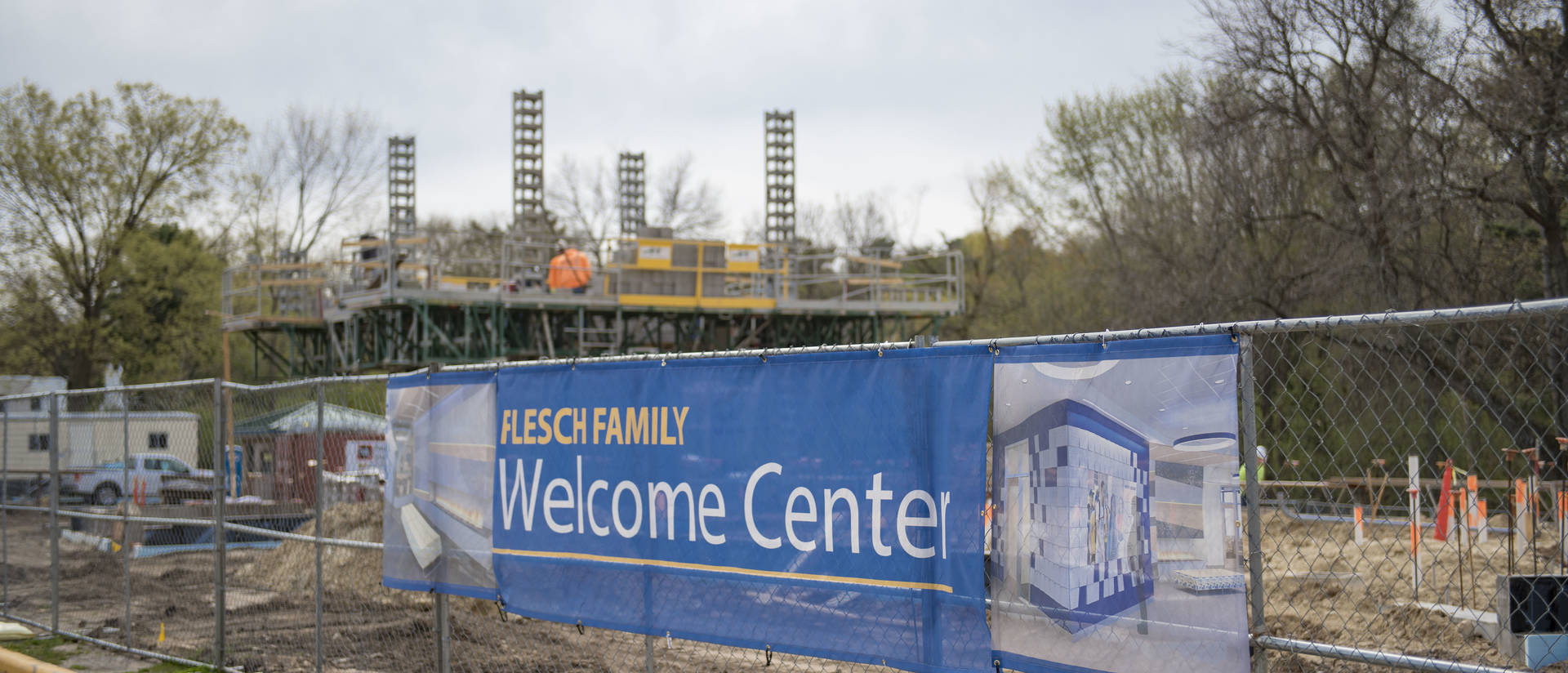 Facilities moving forward
Flesch Family Welcome Center
Construction has begun on a new facility that will become the campus entry point for nearly 20,000 campus visitors each year.
The Flesch Family Welcome Center provides a "front door to the university," a need identified in the 2010-30 Campus Master Plan. The building will house the university's Admissions Office and the UW-Eau Claire Foundation and Alumni Association offices, serving as a centerpiece for efforts to substantially expand student recruitment and alumni engagement activities.
Plans for the welcome center hone in on the need for an accessible and attractive first impression of UW-Eau Claire for prospective students and families, as well as the many alumni and other university supporters who come to campus.
The center name honors Tom and Jeannie Flesch, UW-Eau Claire alumni who made a lead gift to the UW-Eau Claire Foundation in support of the project. Tom Flesch is a 1974 UW-Eau Claire business administration and economics graduate, and Jeannie Flesch graduated in 1973 with a degree in business education. Tom Flesch is chairman and CEO of the Gordon Flesch Co. Inc., headquartered in Madison and one of the largest independent providers of office technology solutions in the nation. Tom and Jeannie have been longtime UW-Eau Claire supporters.
The Flesch Family Welcome Center is being constructed along Roosevelt Avenue across from Schneider Hall on the former site of the visitor kiosk. The new facility is funded entirely through private donations and expected to be completed in summer 2021.
Simpson Field
Construction and improvements to Simpson Field near completion after a yearlong construction project on upper campus.
Enhancements to Simpson Field now make it possible for UW-Eau Claire's nationally ranked track and field programs to host NCAA meets after an 18-year inability to do so because of deficits in the facility. The improvements included lighting, a scoreboard and timing system infrastructure and the construction of field event spaces, including hammer toss and discus-throwing areas, a shot put pad and a javelin runway.
Additionally, the Blugold football team now joins the rest of its conference with access to an artificial turf practice field, which improves safety for student-athletes and eliminates $60,000 in annual maintenance costs to the field.
The upgrades to Simpson Field expand access to the facility for use by the women's soccer team, intramural program, club sport teams and the Blugold Marching Band.