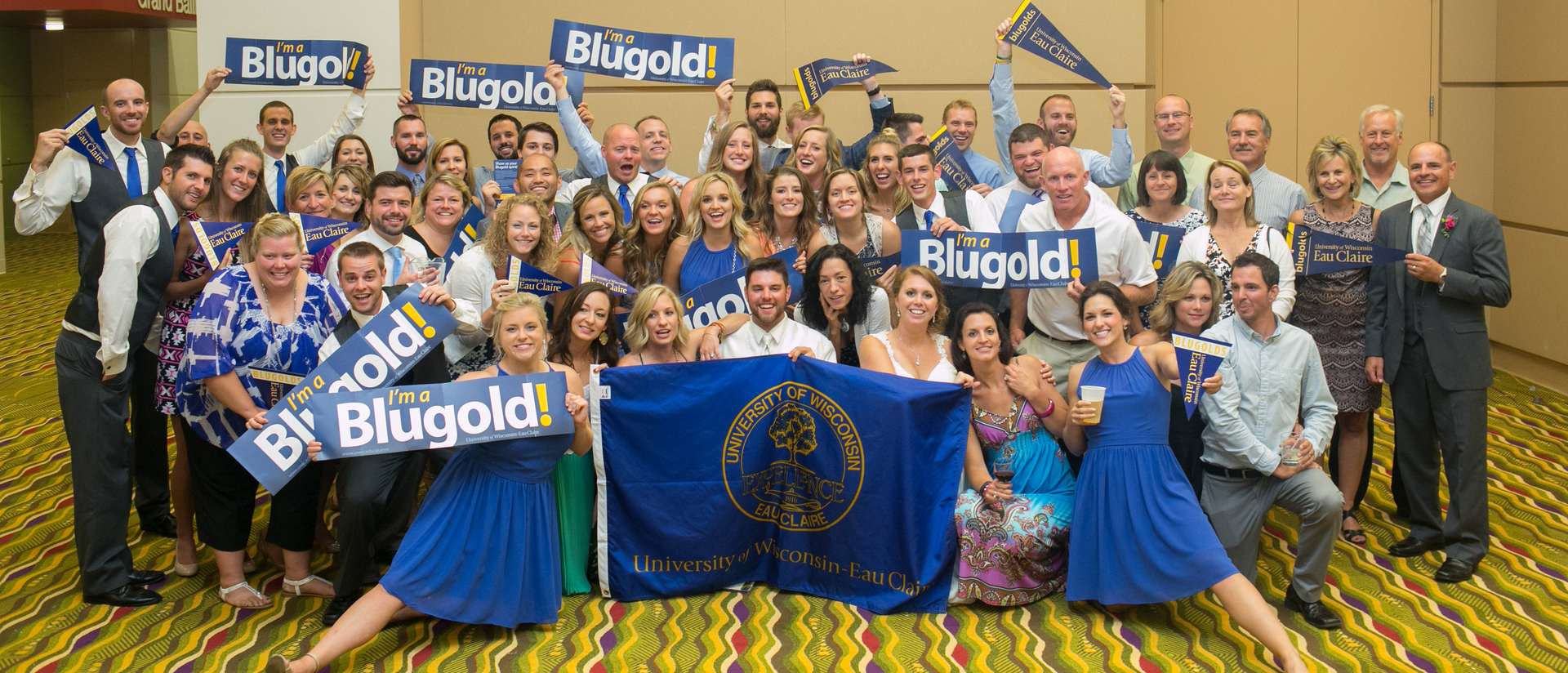 Connect With Your Classmates
Find out what's going on with Blugold classmates and friends, and let them know what is new with you. Class notes will be posted as time permits. Thanks for staying in touch!
Check out the news below, and update us by completing this form.
Class notes
Click on the appropriate time period below to read what's happening in the lives of your UW-Eau Claire friends from days gone by.
*New class notes are posted as time allows.
Classes 1960-1969

1960

Janice (Rubenzer) Durand (BS) has had a great career and just publishes a book "The Magic Hour" which recounts her years shaping downtown retail in Madison, WI with two iconic stores: Puzzlebox and Little Luxuries--the latter still operating. The book also recounts her personal journey and how she had never dreamed she would go to college and its transformative role.

1963

LeRoy M. Lee, (BA) The Wisconsin School Music Association (WSMA) has named UWEC alumni, LeRoy Lee as the 2022 Marching Band Hall of Fame Inductee. The celebration is taking place this weekend in Whitewater. LeRoy's daughter, Molly Roeske will be accepting the award on behalf of her father, who currently resides in Florida.

The Wisconsin School Music Association Marching Band Hall of Fame is intended to recognize the contributions made by individuals to the marching activity in Wisconsin and is open to any person that has made a significant contribution. LeRoy attended UW-Eau Claire. After completing his degree, Lee started teaching at the Prairie Farm School District in 1961, moving on to New Richmond High School two years later. While at New Richmond, Lee put together a parade band that would travel across Wisconsin and Minnesota winning several sweepstake circuits and championship parades. In 1976, the New Richmond High School Marching Band represented the state of Wisconsin in the Inauguration Parade of President Jimmy Carter. The band was also invited to perform at Arlington National Cemetery, one of only a few high school bands to ever do so. To read his complete bio, please visit https://wsmamusic.org/marching-band/marching-band-hall-of-fame/.


Victor Hosford (BSMT) has had a wide variety of life experiences since graduating from UW-Eau Claire. He worked his way through college and commuted from Menomonie to Eau Claire until 1964. Victor remembers that his first semester of college in Menomonie in 1956 cost $72.50 per semester — a lot of money back then — and books were furnished for a fee. He reports that he worked at Sacred Heart Hospital for almost a year while also working in Menomonie at the old hospital. In July 1965 he moved to Ventura, California, where he still lives and works part time. He says that having his degree has made his life so much better than his parents' lives. Victor says he is 79 years young and finds it hard to believe that he graduated 54 years ago.

Larry McCaghy (BA), director of choirs at Lakeville High School, Lakeville, Minnesota, from 1965-99, was presented with the FMC Lifetime Achievement Award for 2015 by the American Choral Directors Association of Minnesota at their annual state conference in November. This award is presented to one member each year who has "lifetime experience providing outstanding contributions and distinguished service to choral music in Minnesota" and "significant and noteworthy accomplishments that embody the distinction and significance of the name 'F. Melius Christiansen,' founder of the St. Olaf Choir."

1967

Daryl Braatz (BS) a former Thorp High School business teacher and FBLA adviser, received the FBLA-PBL National Honorary Life Member Award at the FBLA National Conference this year on July 1. The conference was originally scheduled for Salt Lake City but because of COVID-19 it was conducted virtual. There were 10,500 delegates watching the virtual conference from around the country. Braatz has dedicated a "lifetime" to FBLA starting in 1968 when he chartered the local chapter at Thorp High School. He was the Thorp FBLA adviser for 36 years, served on the National Board for Directors for 3 years (1982-85), and was named Wisconsin FBLA's first State Adviser of the Year. Braatz was adviser to many state officers and six national officers.

1968

Robert Steffen (BA/Business Administration and '75 M/Public Administration-UW Oshkosh) and Marsha (Zuehlke) Steffen ('69 BS/Nursing) will celebrate their 50th Wedding Anniversary on June 12, 2021. They met while in the Wisconsin State University-Eau Claire Marching Band preparing for the Packer/Viking football game half-time show at Bloomington Stadium in Minnesota on November 27, 1966. They are both retired from the University of Wisconsin-Madison and have lived and raised their three children there beginning in 1977. They continue to actively support the UW-EC Band and School of Nursing.

Theresa (Voelkel) Saltzer (BA) retired in 2009 after 34 years of doing social work in Walworth County. In 2014, she accepted a position as a senior advocate with the Association tor the Prevention of Family Violence in Elkhorn, providing services to seniors who have been victims of abuse.

1969

Peggy (Prilamann) Marxen (BA) has written a book published by the Wisconsin State Historical Society and will be released on October 26, 2021. The memoir is called The Farm on Badger Creek: Memories of a Midwest Girlhood. The book is the story of growing up in the 1950s in the Blue Hills west of Exeland with connections to Birchwood," she said. As it says on the back cover, "Through her girlhood eyes, Marxen traces her family's story through the best and worst of times, examining the strength of Wisconsin's small communities. 'The Farm on Badger Creek' is a fitting tribute to her settler ancestors and a way of life now gone — and a celebration of the hardy people of northwestern Wisconsin." The book is available at the Rice Lake Senior Center, the Ladysmith Depot Visitors Center and in Exeland at the Exeland Depot, and Meadowbrook Cranberry Company on Hwy 27. It can also be obtained at WisconsinHistoricalSocietyonline.

Marsha (Zuehlke) Steffen (BS/Nursing) and Robert Steffen ('68 B/Business Administration and '75 M/Public Administration-UW Oshkosh) will celebrate their 50th Wedding Anniversary on June 12, 2021. They met while in the Wisconsin State University-Eau Claire Marching Band preparing for the Packer/Viking football game half-time show at Bloomington Stadium in Minnesota on November 27, 1966. They are both retired from the University of Wisconsin-Madison and have lived and raised their three children there beginning in 1977. They continue to actively support the UW-EC Band and School of Nursing.

John (BA) and Christine Enger celebrated their 50th wedding anniversary in June, The couple both retired and continue to live in Menomonie.

James Hilt's (BS) book "How to Have a Better Relationship with Anybody" has recently been republished by Moody Publishers into an ebook available on Amazon.com and Barnesandnoble.com.

Kathleen (Abrams) Serley (BA) first collection of poetry, Statements Made in Passing, was published by Water's Edge Press in May 2022. It is available from Amazon, from the publisher and in some independent Wisconsin Book stores. https://www.watersedgepress.com/product/statements-made-in-passing/
Classes 1970-1979

1970

Karen Slagstad (BS) Retired since January 2010. Worked as a social worker at Washburn County for 22 years in Long term support and adult protection.

David Olien (BA) UW Senior Vice President Emeritus, has recently published an article on World War 1 in the New York Times Magazine. A resident of Williamsburg, Va. , he remains active in the field of international battlefield archaeology.

Naomi Vangen Shep (BSN) was named Wisconsin Home Care Nurse of the Year for 2017 by the Wisconsin Association of Home Health Care. The award recognizes the accomplishments of an individual nurse and provides a way to celebrate the work of home care nurses in Wisconsin. Naomi has worked at Stoughton Hospital in home health since 2001 and is currently the clinical coordinator for Stoughton Hospital Home Health.

1971

Barbara F. Luebke (BA) recently published a memoir "Dementia's Unexpected Gifts is a story of love, discovery, grief, acceptance, hope and resilience. It recounts the author's transformation from "caregiving is not in my wheelhouse" to exhausted caregiver making difficult decisions and eventually finding a path to personal growth. Woven throughout are examples of how the author – determined not to let her partner's disease claim her as a victim, too –came to make her caregiving journey meaningful. Even as she hopes the same for others, she cautions that Gifts is not a prescription for happiness or a caregiving manual. It is one caregivers' reflections, and perhaps in her story readers will find reassurance and solace. For information please contact the author at bfluebke@cox.net

Gary E. Lewis (BA) was awarded the Legacy Award by the Minnesota Administrators for Special Education in recognition of his long-standing commitment to the field of special education through training, mentoring, personal support, modeling and demonstrating an impact that is considerable and measurable over time; and contribution at the local, regional and state levels.

1972

Anne (Rud) Miller (BA-English) has published the second novel, MIGIZI RIDGE in her Small Town, Big Life series. Little impacts John Thorneck's life in a small northern MN town. He plows snow, bartends, cuts firewood- he gets by. He socializes with a diner coffee klatch and his best friend Malcolm Blackbird, enjoys the occasional one night stand, and relishes verbal sparring with newspaper editor Karlene Langley. Following a banishment from his home town, complications with his love life, and revelations from his friends and a cranky old Wisconsin woman provoke John to re-evaluate. "A coming of age story" where the protagonist is 38. Anne worked as a public school teacher for 34 years. She also taught at Northwood Technical College and at Lac Courte Oreilles Ojibwa Community College. Ann is a featured writer in Wide Awake and Every Week Volume 2. She won the fiction portion of the Writers Read 2013 and is published in Volume I of that anthology. She was also a finalist for a piece in the Penokee Mountain Read on Public Radio. Ann is a recipient of a Chequamegon Bay Arts Council grant. Ann has three daughters and three grandsons.

James Smola (BBA-Marketing) retired in 2014 after working for thirty nine years in ISD 196 in Rosemount, Apple Valley, and Eagan, Minnesota. He taught at Rosemount High School for one year and then thirty eight years at Apple Valley High School. At Apple Valley he served as Business Department Chair and Varsity Softball Coach. He was inducted into the Minnesota Fastpitch Coaches Hall of Fame after his twenty seven year coaching career ended. For twenty eight years he served as President of the Dakota County United Educators representing the 2000 plus members in ISD 196. During his tenure as president he served on Education Minnesota Governing Board and other state and national committees. His leadership was recognized by being elected to two terms as the state Softball Coaches President and being awarded the Peterson Schaubach Leadership award by Education Minnesota. His teaching ability was recognized when he was named Business Economics Teacher of the year by Best Prep and was named an Apple Award Teacher by Ashland Oil.

Daniel Schmidt (BA) a Political Science graduate, recently completed serving ten years on the Bella Vista Scottsdale HOA Board including the last six as President of the Board.

Thomas King (MS) UW-Eau Claire professor emeritus of communication sciences and disorders, moderated an open public session for clinicians, clients and families with Alex Truesdell, MacArthur Foundation Fellow, in May in Solon Springs. Truesdell, visiting founder of Adaptive Design Association in New York City, is an adapted designer and fabricator of devices for children with severe disabilities. King is part of the ADA NYC collaboration team.

King also moderated the 44th annual Northwestern Wisconsin Writers Conference, featuring New York Times bestselling author William Kent Krueger. This year's daylong conference was held at the Solon Springs Community Center on July 23 and drew more than 75 writers from throughout Wisconsin and Minnesota. It featured sectional presentations by experienced authors across many topics. King co-presented a session on accurate retrieval of memories and writing vibrant memoirs.

King is the author of "Sewing Awl," his recent essay considering paleo indigenous peoples of the western Lake Superior region from the point of view of a small child. The essay was selected by the Wisconsin Writers Association for inclusion in its first Wisconsin Literary Journal, currently in press. "Sewing Awl" also appears in King's newest book release, "Neighborhood of Bears," Vol. 3 of his "Tales from the Red Pump" series of books about Northland Lake Superior history, language and culture.

Ginger Olson (BA) retired in May 2016 after 38 years at Rochester Hills Public Library in Rochester, Michigan, where she was the head of circulation. She spent the summer traveling with her husband, Eugene Olson, (BS) camping, visiting with children, grandchildren, relatives and friends, and also visiting both of their mothers. Ginger spent several years as a volunteer at the library before becoming employed there. She hopes to be able to spend more of her time reading the books recommended by patrons, biking and camping with her husband, and volunteering at her church and the library.

Terri (Peterson) White (BA) founded T.E.A.C.H. (To Encourage and Challenge Homeschoolers), a university model school for homeschooled students, in 2012. Classes are offered in all of the core subjects for middle and high school as well as several electives. While the classes are held in Cleburne, Texas, students from surrounding areas also attend, for an enrollment of 100+ students. The school includes 14 faculty members, with Terri as the director and sole English teacher.

Patrick Wick (BBA) retired as president and CEO of the Bank of Turtle Lake in January 2014. He held this position for 28 of his 42 years with the bank. Patrick enjoyed numerous activities within the community, including being a Lion, Knights of Columbus and Booster Club member. He will miss working with his customers and his wonderful staff, but looks forward to having time to enjoy his family, grandchildren and lowering his golf score.

1973

Philip Bensouda Snr (BS) my two Sons both attended UW-EC . Philip Junior transferred to Virginia and George stayed in UW-EC where he graduated and died in St. Paul in 2017.

Brian Goldbeck (BA), '79 (BA) was acknowledged by State Department Undersecretary Patrick Kennedy at Goldbeck's November 2016 retirement ceremony in Washington, D.C., for his 32+ years of service, including postings in South Korea, North Yemen, Ethiopia, Mongolia, the Philippines, Hong Kong, Taipei, Beijing and Guangzhou, as well as Washington, D.C.

Joe "JJ" Haefner (BA) has had a technical primer, "Structured Analysis: The How of 6 Sigma" and a work of fiction, "The Preacher and the Shaman," published. "The Preacher and the Shaman" is selling internationally in England and Australia as well as in the U.S. Joe was the first non-engineer to be accepted into the UW-Madison College of Engineering, where he taught statistics as a graduate student.

Blair Hull (BA) recently had her first mystery novel, "St. Mary's Private Dancer," published. Hull, who earned a master of divinity degree in 1995 from the Chicago Theological Seminary, currently serves the Congregational United Church of Christ in Whitewater.

Mark Werlein (BME), '79 (MST) retired in June 2014. Throughout his career he served as a music teacher in Wisconsin and California, as well as in positions in business management. For the past 18 years he worked as an assistant principal at Oakmont High School in Roseville, California. Subsequent to retirement Mark has been busy writing music for film, television and cinema. Most recently he joined Ross Music Management Group of New Jersey for exclusive publishing and performance representation. Mark's music has been performed on YouTube as well as in several video projects overseas. Mark and his wife, Eileen Calise, divide their time between Sacramento, California, and Daytona Beach, Florida.

1974

Robert Forster (BBA) joined the Peace Corps in 1971 and spent two years in Honduras. Married a Honduran and we've been together 49 years. Worked for 40 years for a non-profit in advocacy for migrant farmworkers in Wisconsin. Wrote a book, a Peace Corps memoir, titled "Mariantonia: The Lifetime Journey of a Peace Corps Volunteer". Available on Amazon.

Dale Sieber (BA) is retiring from the ministry of Covenant Players after 43 years of service, due to health reasons. During his time in ministry, he has traveled throughout the most of the US, Ontario and German speaking Europe. From 1992 through 2015, Dale and his wife Ann serviced German speaking Europe and on the European staff of Covenant Players. Ann passed away in 2015. Since January 2016, Dale has been working as Head of Finance for Covenant Players at the world head quarters office of Covenant Players in California. He will be moving to Omaha, NE to live with his stepson Don Arnett. He can be reached through his email address, sieber@daleann.org and would love to hear from any of his former dorm and classmates.

Catherine Furray (BBA) The American College of Bankruptcy announced that the Hon. Catherine J. Furay will be inducted as a Fellow in the 31st Class of the College on March 13, 2020, in Washington, D.C. The Induction Ceremony and Reception in honor of the new Fellows will take place at the Smithsonian Donald W. Reynolds Center for American Art and Portraiture. The thirty-one new Fellows are being honored and recognized for their professional excellence and their exceptional contributions to the bankruptcy and insolvency practice

Ronald Davis (BA) English/Journalism, recently retired from teaching English at the University of Wisconsin-Stevens Point, moved back to Eau Claire, and had his first book, Shiny Side Up: Musings on the Improbable Inclination to Travel on Two Wheels, published by Road Dog Publications. The book, available from most booksellers in print, Kindle and Nook versions, is a compilation of stories published over six years in motorcycle magazines and on Wisconsin Public Radio.

Warren Kraft (BA) and wife, Liz, both class of 1974, traveled this autumn to Japan for their son Nathan's graduation from Tokyo University of Foreign Studies, and attended a symposium at the Diet (Japanese parliament) where he presented his master's thesis findings in Peace and Conflict Studies. They continue to reside in Oshkosh WI, where Liz remains a substitute teacher for the Oshkosh and Berlin school districts. Warren is co-pastor at Melnik Presbyterian Church, Whitelaw WI, and director of Webelos summer camp at Gardner Dam Scout Camp, White Lake WI.

Larry Chamberlain (BME) after a thirty year career as District Sales Manager for the Yamaha Corporation of America, Band & Orchestra Division, Larry has retired to Saint Germain WI where he is owner and operator of BSG Enterprises, LLC - Chamberlain's Eagle View Resort.
Chamberlain's Eagle View Resort is located on Big Saint Germain Lake and has three cabins available as vacation rentals May 1-Oct 1.
Additional information is available at www.chamberlainseagleviewresort.com and also on FaceBook. chamberlainseagleviewresort@outlook.com

Dale Sieber (BA) shares the sad news that his wife, Ann Marie Sieber, passed away at her son Donald Arnett's home in Omaha, Nebraska, on Sept. 23, 2015. She had recently retired after 34 years of missionary service with the Covenant Players. Ann and Dale had been married for more than 28 years. Dale says that Ann blessed everyone with her prayers, peace and presence, and grace and wise counsel as she inspired them to deepen their faith and expand their capacities to serve. After spending two weeks in the States to take care of funeral arrangements, Dale returned to Europe to finish training his replacement and then returned to the U.S. for Christmas. He currently is working at the WHQ of Covenant Players in Oxnard, California. Dale can be reached at sieber@daleann.org.

Brian Strand (BS) has been named Gulf States Regional Medical Director for Humana. Strand practiced plastic surgery for 27 years in the New Orleans area.

1975

Kevin A. Johnson (BA) on May 31, 2020, received a Doctor of Ministry degree conferred by University of Redlands Graduate School of Theology/San Francisco Theological Seminary. Dissertation project title: Making the Covenant Work: A Web-Based Resource for Welcoming Gay Pastors www.gaypastorwelcome.com and was hired as temporary adjunct faculty for Doctor of Ministry program June 2022 summer intensive session course, "Gospel and Global Media Culture, " offered at the University of Redlands Graduate School of Theology, San Francisco Theological Seminary, San Anselmo, California. July 2022 marks his 20th year as co-founder and pastor of Bloom in the Desert Ministries UCC, Palm Springs, California.

Richard N. Christman (BA) is CEO of Employment Solutions and a former community columnist for the Lexington Herald-Leader. He lives in Lexington, KY and recently published book "Fat Chance-Diet Mania, greed, and the Infamous Fen-Phen Swindle"

Joyce (Winchel) Namde (BA) retired in June 2018 after over 26 years representing the US as a diplomat overseas and in Washington, DC. She received the Secretary's Distinguished Service award at her retirement ceremony. Her last overseas assignment was as Deputy Chief of Mission at the US Embassy in N'Djamena, Chad. She previously served in London, Nigeria, the Philippines, Mexico, Haiti, Equatorial Guinea and as an environmental officer, head of services to American citizens throughout Europe and US representative to UN technical agencies in Geneva. She resides with her husband, Basile, in Virginia, where she volunteers with the International Division of the Red Cross.

Melinda (Kant) Allen (BS) retired after 21 years working for the Kenosha School District as an Elementary School Library Teacher. She is looking forward spending time with her two grandsons Jon (5) and Ben (3).

Dede (Breese) DeWitt (BS-E) is serving as the 2016-17 president of the Wisconsin state chapter of the P.E.O. Sisterhood. Wisconsin has 139 chapters with 5850 members. This international organization of 250,000 women promotes the education of women and offers scholarships, grants and loans to help women "reach for the stars." Dede also is serving as chairman of the board of directors for Evergreen (a life plan community) in Oshkosh. Dede and husband Andy DeWitt have two grown children and two grandchildren. They reside in Oshkosh and get away to their summer cottage in Eagle River during the summer months.

Mary (Turner) Heimstad (BA), in a significant departure from years of AP-style writing in the journalism and corporate worlds, has published a children's book titled "A Prince of a Dog." It is the story of a dog's quest to adopt a family. The book is available through Archway Publishing.

Monica Stauber Holtz (BA) is the new administrative coordinator for the Friends of L.E. Phillips Memorial Public Library, Eau Claire. She coordinates programs such as Give-A-Kid-A-Book and Books for Babies, which provide new books for children, and she assists the Friends executive board in carrying out many other projects and programs that benefit the library. Monica also handles membership, donations and volunteer recruitment for the Friends. She can be contacted at 715-831-5301 or friendsofthelibrary@eauclaire.lib.wi.us.

1976

Patrice Pakiz (BME) retired in August 2020 as Director of Music at St Thomas Becket Catholic Church in Eagan MN. Retiring during the Covid 19 pandemic has been strange as they blurred together. Patrice is finding enjoyable tasks and hobbies to keep busy. She continues to play piano as a sub at nearby churches and looks forward to returning to live performances with her bands Contratopia and Brass Lassie.

Timothy H. Murphy (BBA) announces release of two new photography books. Irish Churches and Arizona Through My Lens. Amazon Author page: http://amazon.com/author/timhmurphyphotography

Jeff Cairns (BBA), JD, CPA, is a partner in the national law firm of Stinson Leonard Street LLP. Jess was listed in the 2021 edition of "Best Lawyers in America" for ERISA/Employee Benefits Law.

John A. Mielke (BA) a journalism graduate, retired from UW-Parkside after a 19-year tenure that ends with his role as executive director of marketing and communications.

Charles Botsford (BS, MBA) SCORE volunteer recently gave the Niswonger and Fess Award for Outstanding Contributions to SCORE Greater Seattle to fellow Blugold Joseph Heinrich '78, SCORE has served as America's premier source of free business mentoring and education.(300 chapters and 10,000 volunteers nationally)

Tim J. Murphy (BBA), retired January 1, 2019 as President and CEO of Nortrax, Inc., a John Deere company. I've spent my 42 year career working in the off highway equipment industry at the manufacturing and distribution levels. Enjoyed coming back to the UWEC School of Business and presenting my Leadership Lessons from the Real World to current UWEC business students for many semesters. Currently residing in Sarasota, FL with Myrna, my wife for the past 38 years.

1977

Scott E. Spoolman (BA) is an author with two books published by the Wisconsin Historical Society Press, the new book being Wisconsin Waters: the Ancient History of Lakes, Rivers, and Waterfalls. It includes a chapter section on the Chippewa River with some coverage of the city of Eau Claire and UWEC, including a beautiful aerial photo of the campus furnished by the Alumni Association.

John J. Korbol (BA) retired early 2021, ending a 40-year career as a lawyer, with the last 23 years having been spent with the California Department of Industrial Relations. This was preceded by 10 years in private practice and several years with the U.S. Department of Agriculture. I note the recent passing of political science professor Karl Andresen, probably the best teacher I ever had the pleasure of learning from. My junior year abroad was in Denmark and my 2nd year of law school was in England; I'm presently trying to figure out how I can spend my early retirement years in Europe.

Wendy (Hovland) Cregg (BSN) won the first Grandma's marathon in 1977. Forty two years later they are instituting a "Founder's Award" for the marathon and she will be presented the award at the award banquet for Grandma's marathon in June.

David Bacharach (BS-Biology) UWEC Alumnus and Professor Emeritus Kinesiology, St Cloud State University has been collaborating with current UWEC faculty member Dr. Nicholas Beltz, Kinesiology. Dr. Bacharach will be giving an invited address next week in Vuokatti, Finland at the 7th International Congress on Science and Skiing. His presentation is titled "Bridging the gap between science and practice in Winter Sports". Dr. Bacharach has remained active in the American College of Sports Medicine as well as the International Ski Congress. A joint authored paper (Bacharach and Beltz) will follow as part of the conference proceedings.

Timothy J. Weir (BS), went into Environmental Engineering after further education, retired from Corporate Engineering more than 10 years ago and bought a farm as an investment. Now enjoying my home in Texas and travel. The IRS calls me a farmer, so, I guess I am a "farmer".

Victoria (Bell) Amador (BA) The University Press of Kentucky has recently released a new book by University of Wisconsin-Eau Claire alumna Victoria Amador (BA, English and Speech, 1977): Olivia de Havilland: Lady Triumphant

Ellen (Bournique) Van Vechten (BA) practiced law for over thirty years, obtained a Master of Social Work and became a certified alcohol and drug counselor in Illinois. Her book, On the Other Side of Chaos, Understanding the Addiction of a Loved One was released by Central Recovery Press in September of 2018. The book is based on the theory that individuals who are empowered by knowledge of the disease and who have come to accept their lack of control over the result, can make reasoned decisions to support the recovery of both their loved ones and themselves.

Syed Hashemi (BA) received his Ph.D. in economics from the University of California, Riverside, and then spent more than three decades conducting research, teaching and implementing programs to reduce poverty and gender inequality. His professional work encompasses many countries in South and southeast Asia, Central and South America and Sub-Saharan Africa. He lives mostly in Bangladesh but works half time as a consultant to the World Bank in Washington, D.C., advising different governments on policies for reducing poverty. Syed has been married to Rubina for 34 years. They have two daughters. You can contact Syed at syedmhashemi@gmail.com.

1978

James Hodges (BA) currently the market manager for five radio stations by Hubbard Broadcasting in Bemidji, MN, stations KBHP, KYZY, KLLZ, KBUN, FM & AM

Joseph D. Heinrich (BBA) accepts the Niswonger and Fess Award for Outstanding Contributions to SCORE Greater Seattle, SCORE has served as America's premier source of free business mentoring and education.(300 chapters and 10,000 volunteers nationally)

Michael G. Murphy (BS) retired last year after 40 years in education, including 34 years in independent schools, 24 years as a Head of School, and 14 years as Head of Seattle Country Day School, where the school driveway was renamed in his honor. He recently joined The Education Group, (www.educationgroup.com) as a part-time consultant in executive coaching. Murphy lives in Seattle.

Paul Emmons (BBA) professor of architecture, has been named associate dean for graduate studies in the College of Architecture and Urban Studies at Virginia Tech.

David Kamm (BBA) has joined the Beauchamp Maleki Group in downtown Milwaukee as the company's chief operating officer. BMG is a rapidly growing financial services company that works primarily with privately held companies and their owners to provide a single comprehensive and collaborative strategy to fully integrate their financial, estate, business succession and financial asset investment strategies.

Tom Lepinkski (BBA) has been re-elected to the Catholic Order of Foresters High Court. He originally was elected to the board in May 2003 and has earned the Legion of Honor (Third Degree) and Merit Award from the organization. During his time with COF, he has held many offices, including Wisconsin State Court Vice Chief Ranger from 2000-2003, Wisconsin State Court Trustee from 1997-2000 and Wisconsin State Court Treasurer 1980-1988.

Ken Morgan (BA) staged the Midwest premiere of the Jay Jeff Jones play "The Lizard King," a psychedelic journey through the mind and imagination of Jim Morrison, lead singer of The Doors, in September 2015 at the Arcade Theatre in Milwaukee.

Dawn Ullrich (BA), president and CEO of Houston First Corp., has been recognized as an "Icon Honoree" and will be honored at the 2017 Top 30 Influential Women of Houston Awards celebration Sept. 29. The event celebrates women who have "defied limitations and broken through many glass ceilings in their respective fields while forever changing the landscape of business and community service in the city of Houston." Ullrich, who holds a law degree from the University of Houston, has held a wide variety of leadership positions within the city of Houston.

Shari (Groshong) VandeRiet (BME) has written and published two musical compositions: "I Heard It in a Dream," performed by the Boulder Big Band, Boulder, Colorado; and "Psalm & Alleluias," recorded by the Boulder Concert Band. For more information, email sheri.a.vanderiet@gmail.com.

1979

Scott Zickus (BBA) married Kelli (Groth) Zickus '81 (BS-EMPH) on March 1, 2019, and relocated back to WI. Scott is now retired. Kelli is employed in the insurance industry.

Thomas Harris (BBA) retired from DeLoitte Consulting in June 2017.

Kurt Mueller (BBA) retired from Hormel Foods Corporation. Kurt spent his entire 39.5 years with Hormel in sales, marketing, logistics before retiring as Sr VP of Sales for the Consumer Products Sales Organization.

John Emery (BA) relocated to New Mexico in 2014, and was recently appointed deputy general counsel for the New Mexico Department of Health and Human Services. His wife, Teresa Churchill '81, has retired from employment with Fond du Lac County and has joined John in New Mexico, to enjoy the 300 days of sunshine annually. Teresa has played with the Drowsy Maggies Irish band, and has performed numerous times at Milwaukee Irishfest, among other venues. Their three children are scattered across the country but fortunately their son and grandson are a mere 70 miles away in Albuquerque.

Ann (Talbot) Fowler (BS-E) graduated in May from the lay ministry program at the St. Clare Center for Catholic Life on the campus of Cardinal Stritch University. This is a two-year certificate program with a variety of courses geared toward all aspects of ministry in the church, history of the church, gifts of the spirit and many more. Beginning in fall 2016 Ann will become part of the youth ministry program at her home parish of St. Frances Cabrini in West Bend. Ann also is a lector and extraordinary minister of communion there. She has lived in West Bend and been a member of St. Frances Cabrini for 26 years.

Tom Harris (BBA) retired in June 2017 as a managing director with Deloitte Consulting after a 38-year career in the healthcare IT industry. He lives in Brookfield.

Tom Washington (BBA) is working in Texas promoting the Republican Party as state treasurer. Tom and his wife, Billie, are also enjoying their first grandson, Connor, who lives in the Houston area with his parents, Andrew and Catherine (Matthews) Washington. Tom is on Twitter @HebronAggie.
Classes 1980-1989

1980

Valerie (Alt) Pahr (BBA) retired in 2018 after a 37 year career in IT. She began volunteering for Joni and Friends, a Christian disability Ministry, serving at Family Retreats and in the local Hopkins, MN office. Due to staffing changes, she started working part-time as the Administrative Coordinator in November 2022. Come join us at a family retreat! Your lives will be changed forever!

Mark Ollinger (BBA-Business Finance) retired! Like Moses and the Israelites, Mark spent 40 years in the desert (Illinois). In 2021 he and his wife Debbie returned to the promised land of Middleton, Wisconsin. In 2019 Mark wrapped up his career in corporate finance and accounting as chief financial officer of Moss Holding Company, a multi-national branded environments firm.

Mark DeLap (BA-Journalism) nominated for the veteran journalist award in the state of Wyoming, but the Platte County Record-Times newspaper was judged best in the state by the Wyoming Press Association and DeLap won awards in writing, photography and website, and have won in past years awards from the Iowa Press Association, the Minnesota Press Association, the Wisconsin Press Association and from the National Newspaper Association.

Monte S. Johnson (BBA - Comprehensive Public Accounting) crowned 2019 King Boreas LXXXIII, during the Winter Carnival Royal Coronation events at Saint Paul RiverCentre, Jan. 25, 2019. The Royal Coronation is a 130+ year old Winter Carnival tradition. By assuming the throne, Johnson took the official title of King Boreas LXXXIII along with a year's worth of royal responsibilities — from dinner engagements, to school visits, to many, many parade appearances.

Wendy (Hovland) Cregg (BSN - Nursing) won the first Grandma's marathon in 1977. Forty two years later they are instituting a "Founder's Award" for the marathon and she will be presented the award at the award banquet for Grandma's marathon in June, 2019.

Debbie Kurth was recently recognized as California's "Woman of the Year" for the 77th Assembly District. She was selected from over 250,000 women. "Debbie Kurth has been an outstanding volunteer in our district throughout the years," said Assembly member Brian Maienschein. "The great work that she has done in our community is truly deserving of recognition and praise." Debbie's support of local charities, small businesses, and community enrichment has benefited the San Diego community for years. Her community service is enhanced by her experiences as owner, founder, and President of Business Services International, a company specializing in meetings and special events worldwide. She lives in Rancho Bernardo. Debbie has a Bachelors in Psychology and Speech; and an MBA in Health Care. As an Administrator, she ran long-term, sub-acute, and primary care facilities. She currently serves as President and Treasurer of the Rancho Bernardo Business Association, which promotes small businesses in the area, as well as supporting the Spirit of the Fourth Committee, Rancho Bernardo Historical Society, Rancho Bernardo Community Foundation, and other local groups. Debbie is serving her second term as President of the RB Community Foundation and has been the Chair for the Annual Thanksgiving Luncheon for the past five years, granting over $80,000 annually. She also heads the RBCF Annual Hats Off to Volunteers program, which honors 70 volunteer groups. She is the longstanding President and Treasurer for Woodcrest Heights Homeowners Association and Treasurer for the Master Community Association of Bernardo Heights. Debbie was a 2019 inductee into the Rancho Bernardo Hall of Fame for her many years of outstanding leadership and service in the RB Community. In her free time, she enjoys outdoor activities including biking, golf, and scuba diving. Debbie also enjoys singing and performing with local groups. Debbie is the daughter of Arland Kurth of Lancaster, WI and Helen Olson of Beloit, WI.

Mark DeLap (BA) in journalism and a minor in coaching. Has published four books and currently the managing editor for the Sioux Center News in Sioux Center, IA. In 2017, Mark won the top award for the best feature story from the Minnesota Newspaper Association and also won a national award for the best serious column from the National Newspaper Association. In addition, won awards for photography, winning the Pub Aux top news picture for 2018, and have had several pictures published on National Geographic.

1981

James Yeager (BBA) officially retired from M3 on May 31, 2023. I would like to express my heartfelt gratitude for the opportunity to work with you. I cherish the relationships that were forged during my 34 years at M3 and will always remember the rewarding experiences we shared. Moving forward, I will focus on my health, family, and personal endeavors. I wish you continued prosperity and success in all your future endeavors. Thank you once again for your trust and collaboration over the years.

Cathy (Brzezinski) Linehan (BSN) retired November, 2021 after a 40 year career as an oncology nurse. She created the role of Patient Educator in Radiation Oncology as part of her Masters degree. That role encompassed delivering patient care and education, developing education materials, quality improvement, committees and community education and outreach. She is married to her husband Con, for 37 years and has 3 children. Son Conor is a Nurse Practitioner and daughter Jenna is a cardiac ICU nurse. Son Michael passed away in 2008 of pediatric leukemia yet lives on as the inspiration for his siblings career choices as nurses. She is busy traveling and spending time with family and loving retired life!

Richard Henke (BS-Physical Education) retired in July 2020 after 38 years as an Athletic Trainer. Over that time period, he worked for the Cleveland Indians, Georgia Physical Therapy, UWEC, McDonough Orthopedic Sports Medicine Center and The Marshfield Clinic Health System. He has spent the past 32 years living and working in Wisconsin Rapids, WI. Rick was inducted into the Wisconsin Athletic Trainers Association Hall of Fame in April 2018. Retirement plans includes everything he couldn't do while working including umpiring baseball games.

Kelli (Groth) Zickus (BS-EMPH) married Scott Zickus '79 on March 1, 2019, and relocated back to WI. Scott is now retired. Kelli is employed in the insurance industry.

Timothy Kay (BBA) obtained his law degree from Marquette University in 1984. He was re-elected for a second term as Lake Country Municipal Court Judge on April 5, 2016. Lake Country Municipal Court consists of 18 municipalities in western Waukesha County and is the largest joint municipal court in the state. Tim graduated from Marquette Law School in 1984.

Timothy Norris (BBA) is celebrating his first year in his second career as part of the faculty of law at Monash University in Victoria, Australia. He retired from KPMG in 2014 where he served as director and partner of management consulting in the USA, Europe, Middle East, Latin America and Asia.

1982

Peter Eckerline (BBA), '83 (MBA) moved into "semiretirement" in 2021 and looks forward to the next chapter. Pete spent 39 years at Merrill Lynch, where he, and his team, the Eckerline Wealth Management Group, were nationally recognized, earning numerous awards over the years. He also received the UWEC President's Award in 2004. Pete says the hardest part of retiring was saying goodbye to his Merrill Lynch team, and especially all the clients he worked with over the years. He resides in Wayzata, Minnesota, and Naples, Florida, where he and his wife, Martha, support many charitable organizations, including UW-Eau Claire, which Pete credits for a lot of his success. He is often overheard telling people that Harvard is the Eau Claire of the East! Pete likes to hear from former classmates, and welcomes emails to Petereckerline50@gmail.com.

Mary Strand (BA), a novelist and singer-songwriter, published a trio of novels in 2022, starting with Sunsets on Catfish Bar. She released her debut single, "Act As If," in December 2022, and her debut album, Golden Girl, will release in June 2023.

Christine Follett (BBA) received her master's degree in public health administration from the University of Minnesota in 1996 and retired from the field of worksite health promotion in July 2022.

Ken Derks (BBA) serves as a member of the board of directors of Fidelity Bank in Edina, Minnesota. He also serves on both the Audit and Compensation Committees of the bank's board of directors.

Barbara Hemberger (BA) named Director of Sales & Marketing for Saint Therese of New Hope in New Hope, MN. She is responsible for overseeing this function for the independent living and assisted living community.

John Kahne (BBA) retired from Graybar Electric after a 34-year career. I held several financial positions and spent the past thirteen years as Director Finance for Corporate Accounts, the Atlanta region and lastly the Minneapolis region. My wife Kathleen and I relocated to Tampa, Florida immediately following retirement.

Bradley A. Mueller (BA) recently received the 2019 Provost's Excellence in Undergraduate Advising Award which recognizes professional advisors who have demonstrated exemplary skill in academic advising and a commitment to student success at the University of Illinois at Chicago (UIC). Brad earned his law degree from the John Marshall Law School in 1986 and actively practiced law in Chicago for over 25 years before changing career directions to development and then to his current position at UIC 3 years ago. Brad receives great satisfaction from sharing his legal career experiences with undergrads as they contemplate and apply to law school.

Howard Sturtz (BBA) spent 33 years in the corporate world, 31 with Quaker Oats/PepsiCo in consumer packaged goods sales. Retiring in 2014, I decided to pursue my passion for art, founding inc2ink art, and started drawing home portraits. I also continued to run marathons (now 22) recently qualifying this past October for the Boston Marathon in 2020. But for years, something stuck in the back of my head to do something bigger, something to help another person. I've been blessed with good health, my wonderful wife of 31 years and two grown children. So on November 5, 2018 I became a non-directed kidney donor at he the Mayo Clinic in Rochester, MN. An informed decision, my kidney went to a woman in FL; someone whom I've never met. My former kidney went on a Delta flight. I only know her transplant at the Mayo Clinic in Jacksonville was successful and her life saving kidney immediately started to do its thing. In 6 months we may get to meet. It's a decision left up to the recipient. Four weeks removed from surgery, I ran my first 2 miles yesterday and continue to be busy with my art, taking home 4 exhibition awards this year alone (inc2ink.com). I often think back to my Blugold days and how an average student can go on to bigger things, more than they may ever imagine.

Peter Eckerline (BBA), '83 (MBA), a Merrill Lynch financial adviser based in Wayzata, Minnesota, has been named to 2019 Barron's "Top 1,200 Financial Advisors list. Peter has been recognized by Barron's in its list of America's top 1,200 financial advisers in 2014, 2015, 2016, 2017, and 2018.

Peter Eckerline (BBA), '83 (MBA), a Merrill Lynch financial adviser based in Wayzata, Minnesota, has been recognized by the Financial Times in its top 400 financial advisers list. In addition to the Financial Times honor, Peter has been recognized by Barron's in its list of America's top 1,200 financial advisers in 2014, 2015, 2016 and 2017. Barron's also recognized Peter as the No. 1 wealth adviser in Minnesota in 2015 and 2017. In 2012, he was named to Barron's top 100 financial advisers. Peter, who has been with Merrill Lynch his entire career, received the President's Award from the UW-Eau Claire Alumni Association in 2004.

Daniel Scholz (BA) is the author of "The Catholic Epistles, Hebrews, and Revelation," which was published by Anselm Academic in August 2016. Scholz, who holds a doctorate from Marquette University, is a member of the philosophy and religious studies faculty at Cardinal Stritch University in Milwaukee.

Skip Sturtz (BBA) retired in 2014 after 31 years as a national account manager with PepsiCo/Quaker Oats. He founded inc2ink in 2014, a venture that focuses on original home and cabin portraits following his passion for drawing. This past year Skip received the Art Excellence Award from the Plymouth, Minnesota, Arts Council and placed second in the 2016 Minnetonka Juried Members Show. He has been married for 29 years and has two children, ages 20 and 24. Skip lives in Plymouth, Minnesota, and currently is training for his 19th marathon next April.

1983

Nancy Norr (BBA) The Duluth City Council recently appointed Nancy Aronson Norr to the Duluth Seaway Port Authority Board of Commissioners. Norr succeeds Commissioner Ray Klosowski, who concluded an 18-year stint on the Port Authority Board of Commissioners in October. Norr's
appointment is a six-year term set to expire Oct. 31, 2028.
Norr recently completed a 31-year career at Minnesota Power, an ALLETE company, as director of regional development. A Duluth resident since 1985, she has served on numerous local, regional and state boards, including a tenure as chair of the Duluth Economic Development Authority (DEDA) and a co-founding role with the Area Partnership for Economic Expansion (APEX). In 2021, the Minnesota Humanities Center appointed Norr to its board and she also founded Norr Community Solutions.

Julie (Kosikowski) Wipperfurth (BA-1983, MS-1984) after 36 years as a Speech and Language Pathologist in the public schools, I retired in June 2020. Because of the pandemic, my last few months was spent doing therapy with my kiddos from my dining room. I am loving retirement - lots of hiking, pickleball, boating and traveling.

Scott D. Mattison (BME) is in his 36th year of teaching choral music and currently teaches for the Chadwick-Milledgeville Community School District. In January, Scott's High School Concert Choir was selected to perform at the 2020 Illinois Music Educators Conference (IMEC) in Peoria, Illinois. He and his music program were also featured in the Spring Edition of the Illinois Music Educators Journal, and his high school was crowned the Illinois High School Association's 2020 Class B sweepstakes winner.

Jeff Koepke (BBA) was hired as vice president and chief information officer for Garner Denver Inc., a global provider of industrial equipment, technologies and services, in December 2016. Jeff oversees the use of worldwide information technology within the company and is responsible for ensuring that all systems necessary to support its operations and objectives are in place. Prior to accepting this position, Jeff served as vice president of information technology for Generac Power Systems Inc.

1984

Guillermo Wiegering Cecchi (BS) (MD) is a plastic surgeon for over 26 years, lives in Lima, Peru, President of the Peruvian Plastic, Reconstructive and Aesthetic Society for the period of 2021-2023, and President of FELAQ (Iberolatinoamerican Federation of Burns) for 2022-2023

Steve Berger (BBA) and Terri Berger (BS, '85) have opened a restaurant in Hartland called Beer Snobs, featuring 24 craft beers and pub staples such as burgers and cheese curds.

Tim Cruciani (BME) recently completed a 32-year career in the banking industry as an executive vice president. He recently joined the national consulting company think2perform. At this values-based company, Tim specializes in helping organizations and people become successful in business and in life, accomplishing things they never thought possible. He welcomes email at tcruc@att.net.

Raymond Skwierczynski (BS) has been named head of pharmaceuitcal operations for CoLucid Pharmaceuticals.

Carl Whalen (BS), a UW-Eau Claire chemistry graduate, has completed his first year of medical school at A.T. Still University School of Osteopathic Medicine in Arizona. He recently moved to Beaufort, South Carolina, to complete medical school while caring for underserved patients at a local community health center.

1985

Jan Schiller (BBA) is enjoying semi-retirement in north Phoenix while still enjoying delighting Berkshire Consulting's clients by transforming their strategies into results with project management. So proud of both children, who have successful careers (Dr. Kim is a vet; Kyle is a CPA).

Robert A. Mathers (BBA) has joined the national law firm of Quarles & Brady LLP the firm's Milwaukee office in the Business Law and Tax Law practice groups. Before joining Quarles & Brady, Mathers was shareholder and chair of the tax section at a Wisconsin-based law firm. He also was previously national tax director and CEO of the wealth management subsidiary at one of the largest national CPA firms in the country.

Daniel L. Scherschel (BA) after 34 years in the education field, and 26 years at Clintonville High School: I'm retiring from teaching in May of 2022. Looking for to the next adventure in life.

Allen W. Perkins (BA) recently moved back to Eau Claire from the Bay area in CA and is a world renowned, award winning Turntable , speaker, tone arm designer (yes, for records!) We have two boys that have graduated from UWEC (2019,2021). Blugold-alumnus-and-high-fidelity-sound-expert-Allen-Perkins

Nancy Langer (BBA) announced she has been appointed the CEO of Transact Campus, Inc. (Transact), the leader in innovative
payment solutions for a connected campus. In this role, she will oversee the company's vast ecosystem of integrated payments, ID solutions, and campus commerce technology.

Robert Mathers (BBA) has joined the law firm von Briesen & Roper, at the Fox Valley office in Oshkosh. Mathers provides legal and business advisory services to businesses and their owners, focusing on privately held businesses as well as estate planning. Bob is a CPA and is AICPA accredited in business valuation and is an AICPA personal financial specialist. He regularly provides guidance to CPA firms, financial services firms, and the accounting and investment advisory industries.

1986

Laura (Lockbaum) Smith-Proulx (BBA-MIS) leveraged my IT and journalism education from UWEC, plus a former IT and hiring career, to launch and grow An Expert Resume, where I partner with C-level and rising executives to land new job opportunities. My work has won a record number of awards in the international resume industry since 2007, and my job search advice appears in Forbes, The Wall Street Journal, TIME, CIO, ComputerWorld, CNBC, and other media. I married David Wentz in 2015, and we co-own a bison operation in Colorado. David and I look forward to traveling to his hometown of Taipei, Taiwan this year.

Micheal J. Larson (BA, MEPD '97) recently published a book on a Civil War soldier from Wisconsin. The title, "Dear Delia: The Civil War Letters of Captain Henry F. Young, Seventh Wisconsin Infantry." The hard release is February 26, 2019.

Beth Moberg-Wolff (BS) received the 2015 Sir James Carreras Award from Variety, the Children's Charity, at their world conference in Milwaukee for her work caring for children with disabilities. Moberg-Wolff serves as chair of the Pediatric/Developmental Disabilities Council of the American Academy of Physical Medicine and Rehabilitation. She holds a medical degree from the UW-Madison School of Medicine and Public Health and completed a residency and fellowship in pediatric physical medicine and rehabilitiation in Colorado. Moberg-Wolff is triple board certified in pediatric rehabilitation, brain injury rehabilitation and general rehabilitation. She lives in Milwaukee with her family and has a daughter at UW-Eau Claire!

Tim Ploetz (BBA) was recently promoted to managing director for U.S. Bank's private banking, private client reserve in Minneapolis. Tim has been with the company 20 years.

1987

Carol B. Stafne (BA) is now an upstart writer (manuscripts, poems), in addition to her work in IT. She wrote a piece, titled "Ode to the Chippewa Campus Bridge: UW-EC Winter Edition." It is UWEC-centric with flavors of Davies, reserve library and Water Street.

Timothy Cramer (BS-Math/Computer Science) I'm a very proud Blugold, and recently was promoted to the Senior Vice President level at Red Hat (a division now of IBM). I'm running engineering, over 3,000 associates. I'm now also listed as one of the companies executive leaders (there's approximately 17,000 Red Hat employees and 22 in this list). https://www.redhat.com/en/about/company/leadership

Jennifer (Sullivan) Hansen (BS-Special Education) has been teaching 6th grade at Owatonna Public Schools for the past 30 years. In 2010, named Minnesota Council for the Social Studies Teacher of the Year, in 2011, named Owatonna Teacher of the Year, and in 2017, recognized at Junior Achievement Capstone Teacher of the Year. Jennifer is a member of the Executive Board for the Minnesota Council for the Social Studies, and Steering Committee for the National Council for the Social Studies. Jennifer married Harold Hansen on December 1, 1990 and have 5 children and 5 grandchildren.

Chip Pedersen (BA) has been hired as director of product development for ZeroLight Limited, a virtual reality startup. The company, based in Newcastle, U.K., develops virtual reality solutions for automotive retailers in Europe and is expanding into the U.S. market. Before leading ZeroLight, Chip worked for Apple, Microsoft Games Studio, Activision-Blizzard and his own game studio.

Jennifer Verhein (BA) was appointed as Nebraska's first statewide language access coordinator in October 2015. In this role she assures limited English proficient litigants have equal access to Nebraska courts and probation services.

1988

Richard C. Daniels (BS) was selected on May 1, 2022 as the Brigade Command Sergeant Major of the 647th Regional Support Group, 416th Theater Engineer Command, Wichita, KS. He is the senior enlisted advisor for the 1,740 Soldier unit and has just completed his 37th year in the Army Reserve. On the civilian side Richard is the GIS Software Coordinator for the Washington State Department of Transportation, Olympia, WA. He recently presented on the use of Deep Learning methods for identifying geomorphological features (dunes and shorelines) from remote sensing imagery at the 2022 ESRI International User Conference in San Diego, CA.

1989

Cory R. Hoffmann (BBA) Cory Hoffmann is celebrating 20 years at Marshfield Insurance on May 13. Hoffmann has a BBA degree from UW Eau Claire and worked as a commercial underwriter for an insurance company for about 7 years prior to coming to Marshfield Insurance in 2002.

Timothy Pfaff (BA) Tim Pfaff publishes first novel. The Pfaffenhoffen Project — How do adult siblings preserve a sense of family after their parents have passed? Siblings aren't always friends, but they afford an intimacy that is surprisingly essential. How do eight brothers and sisters stay connected over distance and time, and through the never-ending tangle of deadlines and disappointments, lovers and spouses, children and grandchildren, and their own frightening brushes with mortality? While settling his father's estate, American writer Andy Pfaff discovers tantalizing research that traces the family history back to the small village of Pfaffenhoffen in Alsace, France. Informed of their parents' "unfinished business" at a family wedding, Andy and his siblings seize upon the notion of a reunion to celebrate their parents and reclaim their heritage. What they find surprises and amazes them.
Classes 1990-1999

1990

Colleen (Morrow)Timm (BA) has been hired by The Cooperative Education Service Agency (CESA) 7 Board of Control as the organization's next Agency Administrator. Colleen is CESA 7's current Director of Learning Services, a position she has held for the past three years. Prior to her work at CESA, Colleen served in public education as a secondary teacher, reading specialist, principal and superintendent in rural, suburban and urban districts in Wisconsin and Arizona.

Angela Firkus (BA, MA 1993) recently published a book titled "America's Early Women Celebrities." She is a professor of history at Cottey College. After graduating from UWEC, she earned a PhD in history from Purdue University.

Lisa Currie (BA), shares, "After completing a master's degree in human sexuality education from Widener University in Chester, Pennsylvania, in August 2018, I decided to refocus my career from college health promotion to workforce development focused on HIV and AIDS. This switch truly allows me to capitalize on my skills and knowledge as a trainer, sexuality educator, and sexologist. I am the Program Coordinator & Training Specialist with the Midwest AIDS Training + Education Center-Wisconsin (MATEC-WI), which is housed in the UW-Madison School of Medicine and Public Health. MATEC's mission is to increase the number of health care providers who are effectively educated and motivated to prevent, diagnose, treat and manage HIV infection. And I'm excited to be back in Wisconsin and within the UW System after being away from the state for 23 years!"

Bethine (Hagen) Ellie (BA), director of institutional effectiveness at Northcentral Technical College, earned a doctor of education in higher education leadership in May 2017 from Edgewood College in Madison. In March 2017 she successfully defended her dissertation on followership styles at a two-year higher education institution.

Jerome Poling (MA) has written a history of UW-Stout, titled "An Idea Comes of Age: UW-Stout, 1891-2016," which was published by the university to mark its 125th anniversary. The 497-page book includes 14 chapters and approximately 140 photos. Poling, assistant director of University Communications at UW-Stout, has written three other books, including "A Summer Up North: Henry Aaron and the Legend of Eau Claire Baseball," published in 2002 by the University of Wisconsin Press.

1991

Sharon Tucker, MSN PhD, APRN-CNS, PMHCNS-BC, NC-BC, FAAN is a University of Wisconsin-Eau Clair alumna and recently co-authored the second edition of Evidence-Based Practice in Action, an American Journal of Nursing Book of the Year Award winner as second place in the Nursing Research Category.

Jill Melchoir (BA) https://www.writersdigest.com/wd-competitions/writers-digest-91st-annual-competition-winning-non-rhyming-poem-the-birds-of-menards Writer's Digest magazine recently awarded me their 2022 grand prize in non-rhyming poetry for a Wisconsin-themed piece of work. I'll be at their writer's conference in NY in July 2023. When I was at UWEC I was a frequent contributor to NOTA, and my son now also attends UWEC and he contributes as well.

Ann (Shuda) Jennerman (BS) Married June 29, 2019 to Dr. Bryant Julstrom. Ann is a School Psychologist with St Cloud Independent School District #742. Bryant is a Professor in the Department of Computer Science, Technology, and Engineering at St Cloud State University.

Lane (Mahnke) Johnson (BSN) completed a dual MBA and MSN with an emphasis in Leadership in Healthcare systems in June of 2018 from Grand Canyon University.

Ron Martin (BS), an Eau Claire middle school teacher, was elected president of the Wisconsin Education Association Council, the largest organization for educators in the state, in April 2016. As president he will represent members of the state association — including pre-K-12 teachers, education support professionals, technical college instructors, aspiring educators in university programs and retired teachers.

Mark Miazga (BA) was elected to a four-year term on the Falcon Heights (Minnesota) City Council. His term begins in January 2018. After graduating from UW-Eau Claire he earned his juris doctorate from Hamline University School of Law.

1992

Patrick Jarvis (BS) Celebrating 10 year anniversary of starting Inktek LLC back in May of 2008. Specialize in the manufacturing and distribution of screen printing inks to the textile market through out the world with an emphasis on the heat transfer market.

Rita (Johnson) Rahoi-Gilchrest (BA) has been appointed interim dean of the College of Liberal Arts at Winona State University in Winona, Minnesota. She is a tenured professor in communication studies and previously served as the director of WSU's general education program.

Andy Schlafer (BBA) was named senior vice president and financial advisor for Robert W. Baird & Co. in its Eau Claire wealth management office.

1993

Matthew C. Lamb (BME) music educator at Glenwood City, was honored with the 2021 Wisconsin Award for Excellence in Teaching Music. The Wisconsin School Music Association and Wisconsin Music Educators Association are proud to sponsor a way to recognize professional educators who inspire students with their own passion for music. These organizations have partnered together to honor these educators with the distinctive Wisconsin Award for Excellence in Teaching Music. This award will be presented annually to one recipient, selected through a nomination and evaluation process. Lamb stated, "This was quite an honor. I had no idea that I was being considered. It was very humbling. I'd like to thank everyone that nominated me." Mr. Lamb was nominated by two area music educators, an administrator, and parents. The award was presented by Wisconsin Music Education Association President Dr. Paul Budde. Paul Budde and Matt Lamb are both 1993 UWEC Music Education graduates from the famed tuba studio of Dr. Jerry Young.

Kelly R. (Kruger) Samuels (MA) has been nominated for a Pushcart Prize for her poem "On Cells Renewing, or Not." She has two poetry chapbooks being published in early 2019: Zeena / Zenobia Speaks (Finishing Line Press) and Words Some of Us Rarely Use (Unsolicited Press).

Stephanie Carlson (BA) recently completed her third year as Director of the largest Lacrosse tournament in the Midwest, the Black & Blue Tournament in Woodbury, MN with approximately 7,500 participants, families and fans in attendance. A volunteer-run organization, the Black & Blue has about 90+ teams competing from Minnesota, Wisconsin and throughout the Midwest. Carlson is currently the head of Convergint Marketing, a digital agency focused on delivering innovative programs to the financial and healthcare industries.

David Comp (BA) received his Ph.D. in comparative and international education from Loyola University Chicago in 2013. After working for 17 years in international education at the University of Chicago, he began a position in October 2017 as assistant provost for global education at Columbia College Chicago.

Curt Krizan (BBA) has been honored by the Phoenix Business Journal as an Outstanding CFO and recipient of the 2016 Turnaround Achievement Award. He's been the CFO of the Fiesta Bowl and Cactus Bowl in Arizona for nearly five years and was the CFO for AZ2016, the local organizing committee that hosted the 2016 College Football Playoff National Championship game this past January.

Mark Stecklein (BS) and his wife, Kristen, announce the birth of their first child, Evelyn Ruth Stecklein, on July 31, 2017.

1994

Molly J. Jasmer (BA) Grady, Hayes & Neary, LLC is pleased to announce that Molly J. Jasmer, a 1997 Marquette University Law Alumni, has joined the firm. Molly has substantial experience, both in private practice and as the juvenile court prosecutor for Waukesha County, for 16 years. She will continue her experience in the children's law fields of termination of parental rights and adoption, guardianship, foster care, and grandparent visitation matters. She also will be practicing assisted reproduction technology law.

Susan Berg-Williams (BME) was a co-recipient of a grant from the St Croix Valley Foundation to begin a Women Composers Music Library. With the SCVF Music Education grant funding, the grant recipients developed a more diverse music library for their middle school bands, exposing their students to a new group of composers who better reflect the school – and band – population. Susan has been the Band Director at Cottage Grove (MN) Middle School since 1999. She'd like to thank Professors Gretchen Peters and Nanette Lunde for sparking her interest in music written by women.

Jen (Fulkerson) Braico (BA) joined Middleton window treatment manufacturer Springs Window Fashions as a copywriter in its integrated marketing department in January 2016. She previously worked as a freelance copywriter for several clients, including Sonic Foundry, Healthgrades, Dean Clinic, Jazz at Five and others, for 13 years. Jen also volunteers for the Association for Frontotemporal Dementia. She and her husband, Sal, who live in Madison, have two children, Nic and Mia.

1995

Jennifer Fandel (BA) is the first-place winner of the Wisconsin People & Ideas 2021 Poetry Contest. Her poetry is forthcoming or has been published in The American Journal of Poetry, Ginger, Measure, The Baltimore Review, and RHINO, as well as a number of anthologies including Hope Is the Thing: Wisconsinites on Hope and Resilience in the Time of Covid-19(Wisconsin Historical Society Press, 2021). Fandel's other published work includes book reviews and nonfiction books for children and young adults. She teaches poetry at Oakhill Correctional Institution through the Wisconsin Prison Humanities Project and tutors students in writing at Oakhill through the Odyssey Beyond Bars college program. Fandel has also taught poetry classes in women's shelters, parks & rec programs, and grade schools.

Tammie (Behr) Walker (BM) was recently named Director of the School of Music at the University of Iowa, effective July 1, 2019. Walker graduated with a BM degree in Piano Performance in 1995 where she studied piano with Penelope Cecchini and violin with Nobuyoshi Yasuda. She received the MM and DMA degrees in Piano Performance from the University of Illinois where she studied with Ian Hobson. Before Iowa, Walker served as Director of the School of Music at Western Illinois University (2015-2019) where she was on the piano faculty since 1998.

Theresa Dachel (BSN) In May 2018, Theresa obtained a Doctor of Nursing Practice (DNP) degree and completed the Nurse Educator Certificate program from the University of Wisconsin-Madison. Currently, Theresa practices as an adult and gerontology primary care nurse practitioner and is a Clinical Assistant Professor at the University of Wisconsin-Madison School of Nursing.

Rick Podliska (BA) earned a master of professional studies degree in political management from The George Washington University in Washington, D.C. If you would like to get in touch, his email address is ricpod@msn.com.

1996

Jennifer (Kraus) Diener (BS) has recently joined TE Connectivity, a global industrial technology leader, as Sr. Vice President and GM of Channel. Prior to joining TE, Jennifer held senior leadership roles with Pentair and Kohler Co. She resides in Sheboygan, WI with her husband Jason, daughter Elizabeth, and dog Harley. She serves on the BOD of the TE Foundation, and Board President Emeritus of the Family Resource Center of Sheboygan County.

Gregory S. Michael (BS) after 26 years working for the State of Wisconsin I have decided to retire from civil service. I worked in the Departments of Commerce, Safety & Professional Services, and Natural Resources as a project manager for environmental clean-up and compliance. I must thank the Department of Geology which provided me the tools to be successful in my 3rd career. As they say: "On to the next adventure!"

Chad Hess (BSENPH) graduated from Duke University in August 2019 with a Master of Health Sciences in the physician assistant program. He is employed as a physician assistant in cardiovascular medicine with the University of Wisconsin Medical Foundation at Unity Point Health - Meriter Hospital and UW Hospital and Clinics. Friends can contact Chad at uwec96@yahoo.com.

1997

Marci Boyarski (BBA) Wipfli LLP (Wipfli), a top 20 accounting and consulting firm, has announced that a new partner has been named in the firm's Eau Claire market. Marci Boyarski, CPA is among the group of 14 associates, half of whom are women, named to the partnership on June 1. "Marci is a strong leader and she sets an excellent example to others joining the firm," said Mark Faanes, Wipfli's Western Wisconsin Market Leader. "Her extensive knowledge and commitment to providing top-quality, value-added services to our clients embodies the firm's vision for growth." Boyarski leads the firm's employee benefits practice and is responsible for the development and delivery of benefit plan services. From one-person organizations to large companies, she works with clients to design and implement plans that meet their unique needs and goals. She specializes in administration and record keeping, consulting and auditing of employee benefit plans such as retirement plans, cafeteria plans and welfare plans. Boyarski is a member of the American Institute of the Certified Public Accountants, the Wisconsin Institute of Certified Public Accountants, the International Foundation of Employee Benefit Plans and the National ESOP Association. She is also a member of the University of Wisconsin-Eau Claire Department of Accounting and Finance Advisory Board, Eau Claire Chamber of Commerce (past board member) and the Young Professionals of the Chippewa Valley (past member and past chair). She is a cum laude graduate of the University of Wisconsin-Eau Claire, with a Bachelor of Business Administration degree in accounting.

Heather MacLaughlin Garbes (BME) has been appointed an affiliate assistant professor in the Baltic Studies Program at the University of Washington. Garbes is the curator of the Baltic Choral Library, the first collection of its kind in the United States, and also continues her research about the use of music in political movements and national identity. She also is the founder and artistic director of the Mägi Ensemble, a 12-voice professional women's vocal ensemble that performs and records music from the Baltic region. The Mägi Ensemble released its first CD, "Baltic Sounds," in 2015 and will release its next CD, "Musica Baltica," in fall 2017. Garbes was honored to come back to UWEC this spring to talk about the Baltic Singing Revolution and lead the Concert Choir and Women's Concert Chorale in a reading session of Baltic repertoire.

Jason Voiovich (BS) is the chief customer officer for Logic PD. He is responsible for spearheading global marketing, business development and customer-facing initiatives, with an emphasis on creating strategic plans to support customers' growth initiatives. Prior to this appointment, Jason served as Logic PD's vice president of marketing, research and analytics services.

1998

Alfredo Narciso (BA) was born in Milwaukee, WI and moved to Eau Claire at a young age. He attended Memorial HS and graduated from UWEC with a theatre major. He moved to NYC over 20 years ago to pursue his acting career. He has been a successful actor and involved in various television, stage and film productions. He has played many roles on many television productions , Law and Order, The Blacklist, Blue Blood and many more. He has been on Broadway shows and off-Broadway. Check his website Alfredo.Narciso. June 14, 2022 was the premiere of the new series, with red carpet et all: The Summer I Turned Pretty where Al plays a writer. The series will start this Friday, June 17th at Prime Video. Thank you for letting all future actors know they can make it too, if they work hard!

Christopher Carr (BA) Dec. 4, 2018 – Star Tribune Media Co., Minnesota's largest media company, announced it has promoted Chris Carr to the position of assistant managing editor for sports, overseeing all newsroom sports coverage. Carr takes the reins from Glen Crevier, who, during his 20-year tenure, helped develop one of the nation's most-awarded sports departments.

Marc Hutchinson (BA) went on to get a PhD from University of Kentucky and is now the Chairman of the Political Science department at the University of Rhode Island. This year alone he won the prestigious URI Foundation Excellence in Teaching award, the Excellence in General Education award from the Office of Innovation in General Education as well as spearheaded and developed an entirely new degree called the International Studies and Diplomacy Program.

Laura Finley Opicka (BBA) and Chad Opicka '99 (BS) welcomed a daughter, Katelynn Claire, on March 14, 2017. She was welcomed at home by brothers Hudson and Grayson. The family lives in De Pere.

Matt Wanner (BME) has been awarded the Civic Music Association's 2016 Certificate of Excellence in Choral Music Instruction. Matt is director of choirs at Muskego High School and music department chair and district music coordinator for the Muskego-Norway School District.

1999

Paul Ehrsam (BS) Great memories from UWEC and Water Street from 1995 to 1999! My UWEC education set the stage for a successful career and the four plus years I spent in Eau Claire were nothing but good times with "kids" who've become lifelong friends.

Kurt Whitman (BA-English) and his family have permanently relocated to San Diego, California. Kurt Whitman has joined the law firm of Gatzke Dillon & Ballance LLP in Carlsbad, California (San Diego County). Kurt practices law in the areas of land use, real estate, and litigation and resides with his family in San Marcos, California. .

Erica Barrette (BS) has been named Sacred Heart Hospital's Physician of the Year for 2017. She joined HSHS Sacred Heart Hospital in September 2011, and she transitioned to OakLeaf Clinics on June 1, 2017. Barrette will continue to care for patients and deliver babies at Sacred Heart Hospital. She completed medical school at the University of Wisconsin School of Medicine and Public Health and an obstetrics/gynecology residency at Tri-Health Medical Center in Cincinnati. Barrette is board-certified in obstetrics and gynecology. She currently serves as a member of the HSHS Western Wisconsin Division Ethics Committee, the HSHS Physician Informatics Committee and the OB Multidisciplinary Safety Committee.

Carlos Villarreal (BA) has been promoted to general manager of concrete pipe and precast at County Materials Corporation in Roberts. Carlos joined County Materials, a family-owned company based in Marathon, in August 2015. Carlos and his wife, Erin (Gjertson) Villarreal '00 (BBA),have three children and live in Woodbury, Minnesota.

Kurt Whitman (BA-E) has joined the Los Angeles law firm of Cox, Castle & Nicholson as an attorney in the firm's Land Use & Natural Resources group.
Classes 2000 to 2009

2000

Angela (Pittman) Taylor (BA) has been promoted to Director of Corporate Communications. Taylor, who most recently was Deputy Director of Corporate Communications, succeeds John Rumpf, who retired from the role effective January 3, 2023, after over two decades at the employee-owned international financial services firm. Rumpf will continue to assist Baird as a consultant.

Sarah (Becker) Myers (BS) has had her book, titled "Outnumbered Mom: Outrageous Stories of My Three Sons," published. It is available online through Amazon and Barnes & Noble.

Monica Schley (BA) quit her day job last spring to pursue a full-time career with her minor, music. Her primary instrument is harp. She just returned from a highly acclaimed tour to New York City with jazz trumpeter/comedian Ahamefule Oluo and the show "Now I'm Fine," which was featured in Time Out New York and The New York Times.

2001

Christopher R. Powell, D.M. (MBA) Solutions Architect Director, SAIC, was selected as Corporate Fellow, one of 25 in the company of 25500, with his focus areas in High Performance Computing, Data Analytics, and IOT.

Sondra (Swiney) Norder (BSHCA) President & CEO of St. Paul Elder Services, Inc., has advanced to Fellow with the American College of Healthcare Executives. The FACHE® credential recognizes a health care leader's competency, ethical decision making, and commitment to healthcare delivery excellence, placing the recipient among an esteemed cohort of executives. She graduated from UWEC with a Bachelor of Science degree in Health Care Administration, Magna Cum Laude. She also earned her Juris Doctor from Marquette University Law School and is a licensed Attorney with special interests in health law and elder law.

Quinn Kailes (BBA) founded QuiCK Transport, LLC in Kaukauna in 2009, and recently purchased Xtreme Trucking's flatbed division.

Jason John Beloungy (BSW) ACCESS to Independence (www.accesstoind.org) has selected Jason Beloungy as the next Executive Director. Jason has been the Assistant Director since 2010, where he has provided leadership for the services offered by the agency, as well as involvement in systemic change activities. Previously, Jason was a Policy Analyst for the National Council on Independent Living (NCIL) in Washington, D.C. Jason started in the independent living movement in 2004 as an Independent Living Specialist for Independent Living Resources, working in southwest Wisconsin. Jason also has experience managing residential services, providing county mental health services, and working with youth in an institutional setting. Jason is open about his own mental health disability, and sees his lived experience as a strength and asset as the leader of south-central Wisconsin's consumer-controlled, cross-disability organization.

Heather (Schultz) Heezen (BA) and Nicholas Heezen '04 (BS) were married in October 2014, with many Blugold alumni in attendance and in the wedding party. The couple met during their sophomore year at UW-Eau Claire, and after dating briefly, went their separate ways. Heather went off to study abroad in France, and Nic changed his major and decided to pursue a medical career. After 14 1/2 years, the two reconnected and have been together every since. The Heezens are expecting their first child in early 2017. They say that UW-Eau Claire has played a big role in their lives and will forever have a special place in their hearts.

Kris Sonsin (BA) had been living in Malaysia since September 2014 and now has relocated to Kuala Lumpur. She is a lecturer with INTI, International College's English Laureate Program.

Jodi (Becker) Tonarelli (BA) has been promoted from communications director to director of weekend experience at The Ridge Community Church. The Ridge is a nondenominational church with two campuses in metro Milwaukee.

2002

Tracy L. Garder (BA) Chief Warrant Officer 5 Tracy Garder, the last Women's Army Corps Soldier on active duty, received the Legion of Merit from Chief of Army Reserve and Commanding General, United States Army Reserve Command, Lt. Gen. Jody Daniels on August 18, at Fort Belvoir, Virginia. Garder began her career in the Women's Army Corps at Fort McClellan, Alabama, in 1978, one year before it was integrated into the Army. She graduated from the University of Wisconsin-Eau Claire in 2002 with a BA in Theology.

Daniel Bergen (BA) has been appointed by President John Walz, Ph.D. to the newly created position of senior advisor to the president at Milwaukee School of Engineering. Bergen joins the MSOE leadership team and will work closely with Walz to lead the development and implementation of new strategic initiatives to help the university achieve its vision. He also will ensure the university maintains a constant focus on innovation and strategic thinking for the future.

Bradley J. Weckworth (BBA) is proud to announce that he will be Vrakas CPAs + Advisors next President and Managing Shareholder.

Christina M. Smith (BA) first book, Syndicate Women: Gender and Networks in Chicago Organized Crime, came out in July 2019 with the University of California Press. This work is based on my dissertation which I completed at the University of Massachusetts Amherst in 2015.

Ben Frederick (BS) has been promoted to lieutenant of police within the Eau Claire Police Department. Ben has served with the ECPD since 2004 and has held the positions of patrol officer, school resource officer, patrol sergeant and detective sergeant. He also serves on the Tactical Response Team, is involved with the Police Training Officer Program and firearms instruction. Ben recently created the Junior Police Academy which serves area youth and enhances his agency's connection to children and their families. During his career he has received two National School Safety awards from the School Safety Advocacy Council, the Respect for Law Award from Optimist International and the Outstanding Recent Alumnus Award from the UW-Eau Claire Alumni Association.

Justin Hentges (BA) has been promoted to the position of senior advisor for accountability and oversight to the assistant secretary in financial resources at the Department of Health and Human Services in Washington, D.C.

2003

Kimberly (Lucas) Hill (BA) currently in my 11th year at Nielsen and in the role of Director of Client Support. I work with television stations, broadcast networks, advertising agencies, digital distributors and many more client types to help them understand their advertising successes and how to drive ROI for future campaigns. I oversee a team of 7 Account Managers who work directly with Nielsen's variety of clients. Prior to my position at Nielsen, I worked as a Research Director at two television stations in Tucson and San Diego as well as the Research Analyst for a large global advertising agency.

Andrea (Lawson) Hauser (BSN) Gundersen Health System welcomes Andrea Hauser, DNP, RN, CNL, as its vice president of Nursing and Patient Experience overseeing the intersection of high-quality care and exceptional patient experience. Hauser, a native of Caledonia, Minn., joined Gundersen in 2002 as an intern before serving as a Medical Surgical nurse, nurse educator, clinical nurse leader, clinical manager, and most recently as director of Gundersen Nursing. As director, Andrea provided ownership of strategy that benefited nurses across the health system.

Laura A Dean, Ph.D. (BA) published her first book Diffusing Human Trafficking Policy in Eurasia with Policy Press at the University of Bristol in May 2020. Drawing on multi-method research in the region, the book explores the factors behind anti-trafficking strategies and the role of governments and activists in combating labor and sexual exploitation. It examines the intersection of global strategies and state-by-state approaches, and uses the diffusion of innovation framework to cast new light on the impetus and implementation of different policy typologies. The interest in human trafficking started on her study abroad trip with UWEC to Latvia in 1999 and now she takes her own undergraduate students on a summer immersion to the Baltics States. For more information about the book please see hthttps://policy.bristoluniversitypress.co.uk/diffusing-human-trafficking-policy-in-eurasiatps://policy.bristoluniversitypress.co.uk/diffusing-human-trafficking-policy-in-eurasia Dr. Dean was also tenured and promoted to Associate Professor of Political Science at Millikin University in Decatur, Illinois.

John E. Kinville (BA) is is a longtime resident of Chippewa Falls. He is a local historian who teaches American government at Chippewa Falls Senior High School. He earned his BA in broad field social studies education at the University of WisconsinEau Claire in 2003, is excited to announce the upcoming release of The Grey Eagles of Chippewa Falls: A Hidden History of a Women's Ku Klux Klan in Wisconsin soon to be published by The History Press on February 17, 2020.

Rachel DuPont (BA-Communications) Rachel and her husband Michael are the owners of i9 Sports Madison, fall of 2015. The DuPont's own the first franchise in WI and looking to expand their franchising endeavors! i9 Sports is the first and fastest growing youth sports league franchise in the country. The program is a one day a week, recreational youth sports league that offers flag football, soccer, basketball, t-ball/coach pitch, lacrosse and volleyball. A waiver needs to be signed by parents stating they will stay positive at the field/court. The DuPont's have created a fun, positive, family environment where families want to come back week after week!

Jacob Hookom (BS) received the Fellows Award from McKesson Medical in fall 2016. The Fellow's Program rewards "intentional innovation" as demonstrated by a McKesson technologist who has a reputation for strategic delivery and innovation. This elite award and designation recognizes current and sustained accomplishments over a period of time (a minimum of two years, including the current fiscal year). Jacob is only the sixth person to receive this award.

Tim Johnson (BS) has been named director of the Smith College Botanic Garden. He previously served as head of preservation at Seed Savers Exchange, an international nonprofit organization that works to conserve, share and promote heirloom seeds and plants. Johnson holds master's and doctoral degrees from the University of Florida. (Photo by Brittany Todd)

Jon Kramer (BA) currently is a research analyst for the Wisconsin State Journal in Madison. Jon, who learned the game of pool at the UW-Eau Claire Bowling and Billiards Center, where he worked as a student, has since advanced to the masters level. In February 2017 he won the Wisconsin state pool championships in the masters division. Jon says he's officially a state champion and it all started at the BBC!

Heather (Baier) Krzmarzick (BSHCA) is the executive director for the national campus of the Good Samaritan Society in Sioux Falls, South Dakota. She also has been elected and re-elected to serve on the Good Samaritan board of directors.

Jess Schmidt (BA) has joined the Los Angeles office of global public relations company Porter Novelli as a senior vice president in the consumer brand marketing practice. Schmidt will play a key role in the agency's work with a top consumer client, the Almond Board of California, and will be responsible for managing, growing and developing talent. Schmidt has more than a decade of experience developing strategic communications campaigns. Prior to joining PN, she was a vice president at Finn Partners, where she managed several food and beverage accounts, including Dole Packaged Foods, the Happy Egg Co. and Auntie Anne's.

Sally Schwartz (BA) and Josh Hummel were married July 4, 2015, at the American Homestead in Naches, Washington. Sally works as a graduate school adviser for the Milgard School of Business at the University of Washington. The couple spent their honeymoon canoeing the Bowron Lake circuit and float plane mountain biking out of Tyax Resort in British Columbia. They live in Tacoma, Washington.

2004

Kristin Yost (BA) owns a music school in Frisco, TX and recently launched an app that teaches people how to play the piano using video-on-demand. www.CentreforMusicalMinds.org

Adrian Klenz (BA) is the executive director for The Reach Foundation, based in Eau Claire. He says that as an individual with a disability, it is an honor to raise funds and awareness for the foundation, which has served adults and children with disabilities in the Chippewa Valley since 1963. Adrian also has started his own business, Klenz Financial Counseling, and has had the opportunity to travel throughout the country teaching nonprofits about financial capability and financial education.

2005

Kali (Pace-Graczyk) Anderson (BS-Geology) has been promoted to Manager of Consulting Services, Solas Energy Consulting US, Inc. where she oversees the US team's delivery of project siting, environmental compliance, development, due diligence, and operations services for renewable energy projects.

Andrea (Mohn) Talmage (BBA-Management) recently published children's book: "Pocket Dog Danny — Where the Memories Began" The book is available as an e-book and as a paperback online at www.amazon.com.

Erin Gibson (BA-Mass Communnications) recently joined the Washington DC office of global public relations company Porter Novelli as Vice President of its Paid Media team.

Sarah Ouimette (BS) (MEPD) 2006 is the ninth recipient of Lake Superior State University's Excellence in Academic Advising Award, Ouimette is assistant professor of kinesiology.

Jolene (Clare) Clark (BA) Living and loving life in Denver, CO with my partner, Jason, and our dog, Oscar, enjoying all that the Rocky Mountains have to offer year-round. Check out www.redheadmomentum.com to learn more!

Kevin Gostomski (BA) received his master of arts in teaching from the Richard Gilder Graduate School at the American Museum of Natural History.

Andrew Kerbel (BA) and Sarah (Hafeman) Kerbel (BA) started an organization called Seeds from Seeds to help victims and families of child abuse and neglect after their son was a victim of abusive head trauma, also known as Shaken Baby Syndrome, at the age of 7 months. The family lives in De Pere and the Green Bay Press Gazette ran a front-page article on their story and organization in October 2015. The Kerbels have turned a horrible event in their lives into something good for the community and other victims and hope to make a difference. They wanted to let the UWEC Alumni Association know that there are graduates out there doing remarkable things, partly because of the education and some amazing professors at UWEC.

2006

Bridget E. Brown, (BA) has been recognized by the Herb Kohl Educational Foundation. Greendale Middle School Teacher Bridget Brown and Greendale High School Teacher Julie Hahm have been named 2022 Teacher Fellows by the foundation. The Kohl Teacher Fellowship program recognizes and supports teaching excellence and innovation in the State of Wisconsin. Annually, the Foundation awards 100 Wisconsin educators with this honor. Awardees are chosen for their superior ability to inspire a love of learning in their students and ability to motivate others, and for their leadership and service within and outside the classroom.

Sara Olson (BA) currently based in Los Angeles, CA. Since college I've performed on stage and in film and TV productions, both in NYC as well as here in LA. Currently I am a voice over artist, actress, as well as Soprano with the America's Got Talent Semi-Finalist Angel City Chorale, under the direction of Sue Fink. We have been busy this season, singing together (remotely) via Zoom and preparing to showcase our Summer Concert! "Celebrate community and diversity, June 5 with Angel City Chorale's PLAY IT FORWARD - The Virtual Concert Event!

Bridget Brown (BA) recently recognized from Greendale School to earn the National Board Certified Teacher designation from the National Board for Professional Teaching Standards. She joined the team at Greendale Middle School in 2011 and has been teaching 8th grade English since that time.

Steven Kerbaugh (BA) has joined Jackson Lewis P.C. as Of Counsel in the firm's Minneapolis office. His practice focuses on representing employers in workplace law matters, including preventive advice and counseling. Mr. Kerbaugh frequently advises clients on disputes, including non-competition agreements, tortious interference with contracts, fiduciary duty liability, and misappropriation of trade secret matters.

Monette Bebow-Reinhard (MA) has published a new novel released by Solstice Shadows publishing. "Adventures in Death & Romance: Vrykolakas Tales" uses history research to develop this paranormal romance between 1503 Greece and 1933 Hollywood. This is her fourth historical novel. See more at her website, www.grimmsetc.com.

Emily Eastwick (BSN) completed her master's degree in Nursing at Winona State University in May 2015. She is now practicing as a clinical nurse specialist in St. Paul.

Luke Plese (BBA) has been a financial advisor with Wells Fargo Advisors in Shorewood for three years. He and his wife, Jenny Smith, were married in July 2016 and enjoyed their honeymoon in Ireland.

Noah Taylor (BA) reports that after graduating from UW-Eau Claire, he went on to pursue a master's degree in international peace and conflict studies from the United Nations University for Peace in San Jose, Costa Rica; a master's degree in peace, security, development and international conflict transformation from the University of Innsbruck in Austria; and a doctorate in peace, conflict and development studies from the University Jaume I in castellón de la plana, Spain. He currently is working with the Centre for Peace and Conflict Studies, a Cambodian nongovernmental organization that focuses on intervention into armed conflict in Myanmar and other countries in Southeast Asia.

2007

Lucas Schubert (BA - Health Care Administration) has been named the President/CEO of Felician Village according to Michael Etheridge, Chairperson, Felician Village Board of Directors. Schubert is scheduled to begin his duties on the senior living campus on September 5. He will be replacing Frank Soltys who has been serving as the President/CEO. Soltys, who has been at Felician Village since 2013, was announced as the Senior Vice President, Senior Living and Healthcare for Felician Services, Inc. earlier this year. Soltys will be assisting with the transition in leadership to Schubert.

Sarah French, (BA - Psychology), (BA - Communication 2008) elected as Director to the National School Foundation
Association Board of Directors

Megan deWerff (BA) has been promoted to the position of senior client lead at 84.51° in Cincinnati, Ohio.

Angela Halama (BA-E), and her husband, Matthew Halama '06 (BS-E), have published their first book, "Door Within a Door." Designed as a bedtime read for preschool-age kids, the theme of the book is for all people, from little ones to seniors, to search their hearts for bravery and their minds for curiosity, and be willing to try new adventures, seek out their dreams and befriend those who they wouldn't normally befriend. The authors describe the book as having a beautiful bedtime cadence and rhymes to engage kids and help them develop a love for reading. The Halamas live in Apple Valley, Minnesota, and would love to see their book reach families in Minnesota, Wisconsin and beyond.

2008

Chase Brakke (BBA) Vice President of Disability Insurance and Property and Casualty Operations at North Star Resource Group was recognized by Twin Cities Business as a Notable Leader in Finance honoree today.

Jacob D. Eklund (BBA) Legacy Professionals LLP announced Jacob D. Eklund, CPA has been named Partner at Legacy Professionals LLP (effective January 1, 2021). Jacob works with employee benefit plans and labor organizations and has been with the Firm since 2008. Jacob is a 2008 graduate of University of Wisconsin – Eau Claire, where he earned a B.B.A. in Accounting and Finance.

Jenna (Christianson) Schultz (BA-History) published first academic book "National Identity and The Anglo-Scottish Boderlanrds, 1552-1652" https://boydellandbrewer.com/blog/early-modern-and-modern-history/national-identity-and-the-anglo-scottish-borderlands-1552-1652

Tim Baumann (BME-Instrumental '08) and Christine (MEPD '12) both currently work as the Camp Directors for the International Music Camp and we were recently selected to receive the North Dakota Music Education Association Distinguished Service Award for 2019 to recognize our efforts with the camp. We are both very honored to receive this award and would love to share the celebration and recognition with other proud UW-Eau Claire alumni and current/future students. Information on the International Music Camp can be found at www.internationalmusiccamp.com. Information on the NDMEA Distinguished Service Award can be found at https://www.ndmea.org/awards.html. NDMEA President Sara Baumann, can be reached at Sara.Baumann@msd1.org. The award will be presented on Saturday, March 23, 2019 and formal press release will follow shortly afterwards. Drs. Christa Garvey, Gretchen Peters, Phil Ostrander, Jon Stewart, and Jacob Grewe as well as Prof. Catherine Wolter can all give additional information about the International Music Camp and Christine and myself. Thank you and Go Blugolds!

2009

Andrea (Fuss) Dorn (BM) took a bit of a detour from performance and after going back to school for my MSW, I am currently a private practice mental health psychotherapist. I am excited to announce the publication of the newest book in my children's mindfulness book series on March 22, 2022, a grief and loss how-go guide for children. I have independently published three other books in this series, however, two most recent, including this one, are being published with PESI publishing and media, a well known publishing and continuing education company (especially in the clinical/social work world!). Writing and illustrating children's books is something I never thought I would do. I directly relate my spark to follow through with this idea to my experience at UW Eau Claire and my exposure to music and the diversity of a liberal arts education during my time there. (Each of my books contain a musical children's mediation - a way for me to stay connected with my performance roots and share my love of music with children!) I now live in South Carolina, so it's been difficult for me to stay connected (especially with professors), but I am very grateful for my time at UWEC. Hopefully you can pass on my gratitude to whoever may be interested! www.andreadorn.com www.stateracounselingcenter.com

Brian Claxton (BA) and Mary (Imsdahl) Claxton '11 (BME) are making music a family affair. They are members of a nine-piece soul band called The Burroughs based in Greeley, Colorado. The band has opened for acts such as Sir Mix-a-Lot and the Steve Miller Band and have released two studio singles under the title "You Are My Joy." They are incredibly grateful to be able to combine their professional talents and passions.
Classes 2010 to present

2010

Michael DuPont (B.A. Theatre Arts) earned his Ph.D. in Education from Iowa State University in May 2019. He now works at Duquesne University as the Assistant Director for Educational Development in the Center for Teaching Excellence..

2011

Joseph J. Webb Jr. (MPD-Professional Development) director, Student Affairs, Penn State Berks, received the John Romano Faculty/Staff Diversity Recognition Award (Penn State Campus).
Webb's goal is to help ensure that multicultural students know they belong on campus. He is a mentor to students in the Men of Excellence organization, a group that provides black and brown males the connection, resources, and support to achieve academic excellence. He is also a member of the Pennsylvania Black Conference on Higher Education and serves as adviser to the Black Student Union organization and the Student Veterans of America. Additionally, Webb implemented an initiative to highlight campus employees who excel in supporting an inclusive environment.

2012

Jason Stini, CPA (BBA-Accounting) has joined the Rochester International Airport (RST) as manager of finance and administration. In his new role, Stini is responsible for business operations and financial activities for RST, including overseeing accounting, budgetary, payroll/benefit and capital improvement programs.

Preston Schmidt (BBA-Business Finance) Hey fellow Blugolds! I hope everyone is having a great time in the real world. Its been 10 years since I graduated from Eau Claire and I am happy to announce that I am a top loan officer in the Twin Cities. Should you need any assistance with Buying or refinancing in Minnesota or Wisconsin, please consider reaching out!

Rachel Perry (BS-Public Relations and Psychology) and Kevan LaPorte (BS-Athletic Training) got married on September 22, 2018. They reside in Eau Claire where Kevan is a Physical Therapist at Optimum Therapies in Eau Claire and Rachel is a Major Gifts Officer for the UW-Eau Claire Foundation.

Christine (MEPD '12) and Tim Baumann (BME-Instrumental '08) both currently work as the Camp Directors for the International Music Camp and we were recently selected to receive the North Dakota Music Education Association Distinguished Service Award for 2019 to recognize our efforts with the camp. We are both very honored to receive this award and would love to share the celebration and recognition with other proud UW-Eau Claire alumni and current/future students. Information on the International Music Camp can be found at www.internationalmusiccamp.com. Information on the NDMEA Distinguished Service Award can be found at https://www.ndmea.org/awards.html. NDMEA President Sara Baumann, can be reached at Sara.Baumann@msd1.org. The award will be presented on Saturday, March 23, 2019 and formal press release will follow shortly afterwards. Drs. Christa Garvey, Gretchen Peters, Phil Ostrander, Jon Stewart, and Jacob Grewe as well as Prof. Catherine Wolter can all give additional information about the International Music Camp and Christine and myself. Thank you and Go Blugolds!

2013

Beatris Mendez Gandica (BBA) shared a recent experience from October 2021 in Dallas, TX, I was able to visit a real life-size statue of myself and the statues of 119 amazing women in STEM as part of the American Association for the Advancement of Science (AAAS) If/Then She Can exhibit. The exhibit had over 2.5 million visitors! It is exciting to be part of history as this is recorded as the largest exhibit of women statues ever in a public place anywhere in the world. I invite you to read the details of the experience if this is of interest. https://www.linkedin.com/pulse/achievement-unlocked-real-life-size-statue-venezuelan-mendez-gandica

Missy (Erickson) Wright (BBA-Marketing) announces promotion to Director of Franchise Development for Christian Brothers Automotive. Wright, who has been with Christian Brothers for more than four years, will now be responsible for leading the team's franchise development managers and lead qualifier. In her role as Director of Franchise Development, she will now be in charge of onboarding for the franchise development team and equipping them with the resources, support and industry knowledge needed to help sell the Christian Brothers Automotive franchise opportunity.

Lukas Boehning (BS-Political Science) recently started at Fredrickson& Byron as an associate in the Employment & Labor Group. Boehning represents clients in employment, labor and business litigation. He gained experience working with Fredrikson & Byron as a summer associate. Boehning earned his J.D. from Mitchell Hamline School of Law, where he was a legal extern for the Minnesota ACLU. He was also an editor of the Mitchell Hamline Law Review, during which he organized an event for the legal community on the challenges facing at-risk children of Minnesota. While attending law school, Boehning worked full-time in education advocacy and policy to improve education laws around the country.

Sheahan Devlan (BA History) has joined Moss & Barnett, in the firm's construction law team, assisting businesses and individuals in construction disputes and litigation. Prior to joining Moss & Barnett, Sheahan was a judicial law clerk for the Minnesota Court of Appeals for two years where he drafted bench memoranda and opinions on civil and criminal matters.
Sheahan received his J.D., cum laude, from the University of Wisconsin Law School and his B.A., summa cum laude, from the University of Wisconsin-Eau Claire.

2014

Holly Nicolet (BA) UW-Eau Claire graduate with a bachelor's degree in Psychology and a Minor in Business Administration. By the time I graduated, I had such a wonderful time in the Chippewa Valley, I decided to move there. I traveled to Thailand soon after, and upon my return, I started working at Nicolet Law Accident & Injury Lawyers as a paralegal. The psychology program at UW-Eau Claire has helped me in my role as a personal injury paralegal because I developed an understanding of the human mind, and therefore can fully listen to, understand, and connect with my personal injury clients on a human level. Holly Nicolet

Morgan Holien (BBA) has accepted a new position as administrator for Trillium Woods, a life plan community in Plymouth, Minnesota. She previously served as administrator for Sandhill Cove Retirement Living in Palm City, Florida.

Arielle Jasper (BBA) earned her CPA license in October 2015 and was recently recognized by the Minnesota Society of Certified Public Accountants. She currently works in public accounting at RSM US LLP in Minneapolis.

Matthew Mitchell (BS) recently was promoted to the position of strategic technical account manager at Jamf.

2015

Anne Wickland (BA) earned a Master of Divinity degree in May from Lutheran School of Theology at Chicago and was recently called to be an associate pastor at a Lutheran church in Waunakee, WI. She will be ordained this October. She graduated from UWEC as a Religious Studies major, Global Studies minor.

Breanna (Cook) Bortner and Tim Bortner, both 2015 graduates from the College of Business, have a lot to be thankful for this year. The couple got married in Mazatlan, Mexico on March 5, 2020 with a big group of their Blugold friends present to celebrate with them! Breanna and Tim are so grateful to have been able to have their wedding as planned and that all their friends and family were able to get out of the country before things were shut down.

Jeffrey Frelich (BBA) joined Performa Inc. as a BIM Specialist. James is a graduate of the University of Wisconsin-Eau Claire with a Business Administration Degree. He has experience working with electrical engineers in both 2D and 3D modeling.

William Koehne (BSEPH) earned a Masters of Public Health in Global Epidemiology in May from the Rollins School of Public Health at Emory University, Atlanta. The topic of his master's thesis was latrine structure's impact on open defecation in rural India. In August 2019 he began his new role as an Applied Epidemiology Fellow at the Philadelphia Department of Public Health.

Emily (Goldnick) Christiansen (BA) currently is employed by the Department of Defense, serving as the assistant state coordinator for military funeral honors for the state of Minnesota. She says she proudly serve this country in the U.S. Army, and is the mother of a precious baby boy named Maverick James.

2016

Benjamin S. Gordon (BA-German Liberal Arts) currently, working as a flight attendant for Frontier Airlines, based in Las Vegas, NV! I often reminisce on my times at UWEC, and I think fondly of my time there. During my time on campus, I studied German and Music with the intent of becoming a teacher, but life had a different path for me! I had my own brass band, played in all the ensembles, and was lucky enough to perform in the Grammy-Nominated Jazz Ensemble I. I studied abroad in Gießen, Germany, for a year, toured the Midwest with my brass band, and even played in the university orchestra in Germany! Now, I enjoy a view from the top, living my dream in the Southwest as a flight attendant for Frontier Airlines! Hope to see you someday in the skies! Follow your dreams, no matter the cost.



Amanda Blue (BM) recently won the "Best American Aria Interpretation" award in the 2020 Metropolitan International Vocal Competition at the Bruno Walter Auditorium at Lincon Center, on WEdnesday, Jan. 22, 2020. Blue received her B.A. in Vocal Performance from the University of Wisconsin Eau Claire as well as her Master of Music Voice Performance and Pedagogy degree from Westminster Choir College where she graduated with distinction.

2019

Zachary Peterson (MA-English) was recently hired as the Donor Engagement Coordinator at the Wisconsin Center for investigative Journalism! My experience at UWEC in the masters program provide invaluable experience and knowledge that helped me get to this point! https://wisconsinwatch.org/2022/06/wisconsin-center-for-investigative-journalism-hires-donor-engagement-coordinator/