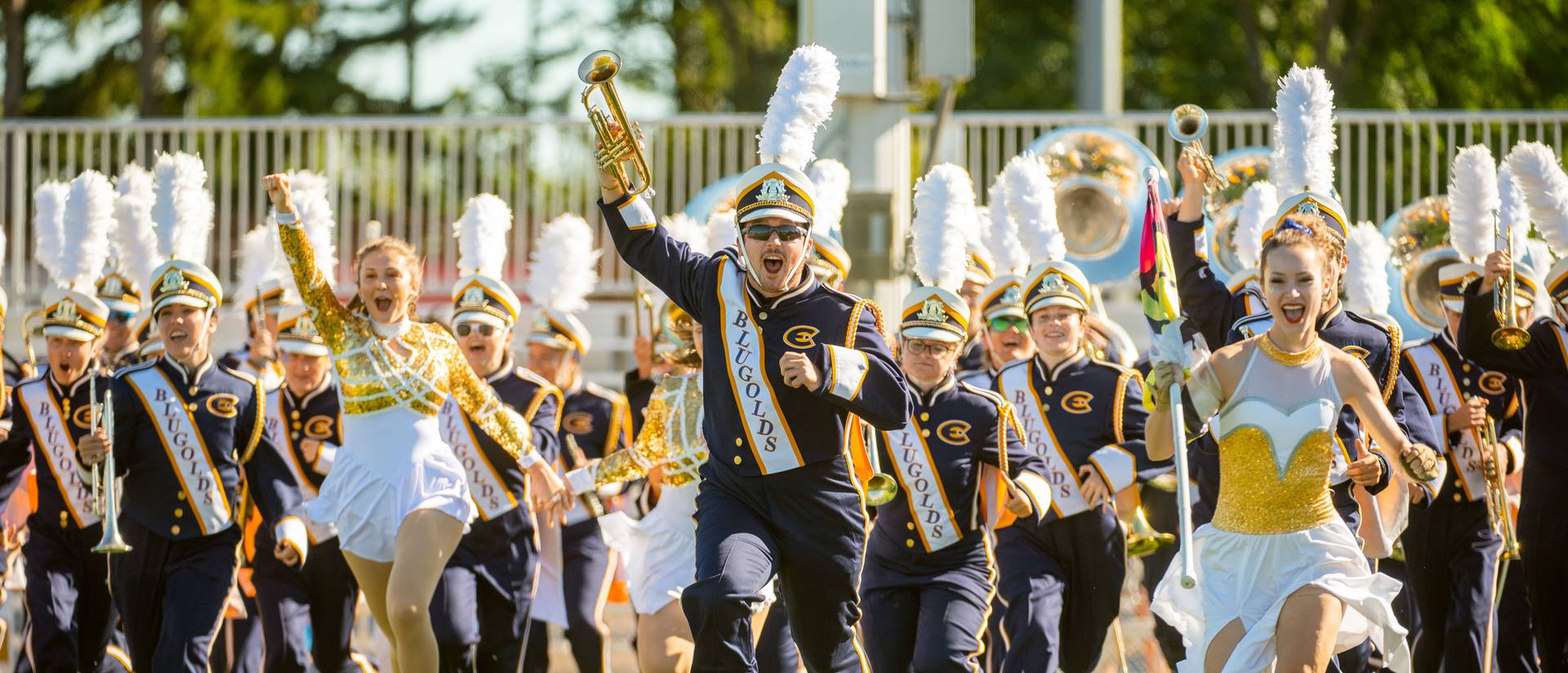 Homecoming 2023 | Celebrate with UW-Eau Claire Blugolds Oct. 6-7
Festivities include parade, the Blugold pregame fest and football game at Carson Park, plus many other activities and reunions. You won't want to miss a minute of the festivities!
Friday, October 7

Golden Blugold Celebration and Class of 1973 | Dakota Ballroom, W.R. Davies Center

It's official—you graduated from UW-Eau Claire 50 years ago and now hold the honored distinction of GOLDEN BLUGOLD.

We're eager to reminisce with you and all our Golden Blugolds in October 2023 to celebrate you!
Share memories of your years as a Blugold during this year's Golden Blugold Celebration, Mingle with fellow alumni and friends, and visit with Chancellor James Schmidt. Hosted by the UW-Eau Claire Alumni Association.

Take in the fall colors and see how the campus has been transformed in recent years.

UW-Eau Claire Blugold Athletics | Hall of Fame | Friday, 4:30 - 9 p.m., Dakota Ballroom, W.R. Davies Center

Congratulations to each of you on your selection to the Blugold Hall of Fame.

Please RSVP for the Hall of Fame Banquet and program HERE

​*The university guidelines around COVID-19 may adapt due to city and county recommendations. Information around safety measures and requirements will be communicated prior to the event.

UW-Eau Claire Greek Alumni Mixer | Friday, 7-10:30 p.m., The Cabin, W.R. Davies Student Center
Saturday, October 7

UW-Eau Claire Alumni Association

10 a.m. | Homecoming Parade | Eau Claire County Courthouse, Lake Street, to First Avenue and Chippewa Street.
Be sure to find us on Lake Street and First Avenue!

11 a.m. | Blugold Fever Fest | Pregame Activities | Food Trucks Onsite | Blugold Marching Band | Carson Park
Lots of activities at Carson Park before the game! Blugold Merchandise for sale: Cash or Check only

1:10 p.m. | UW-Eau Claire Blugolds vs. UW River Falls Falcons Football Game | Carson Park | Purchase game tickets here.

Questions on any events: call the alumni office at 715-836-3266 or email alumni@uwec.edu.
For more information
Check back to this page for additional Homecoming details as they are finalized. For more information, contact the alumni office at alumni@uwec.edu or 715-836-3266.