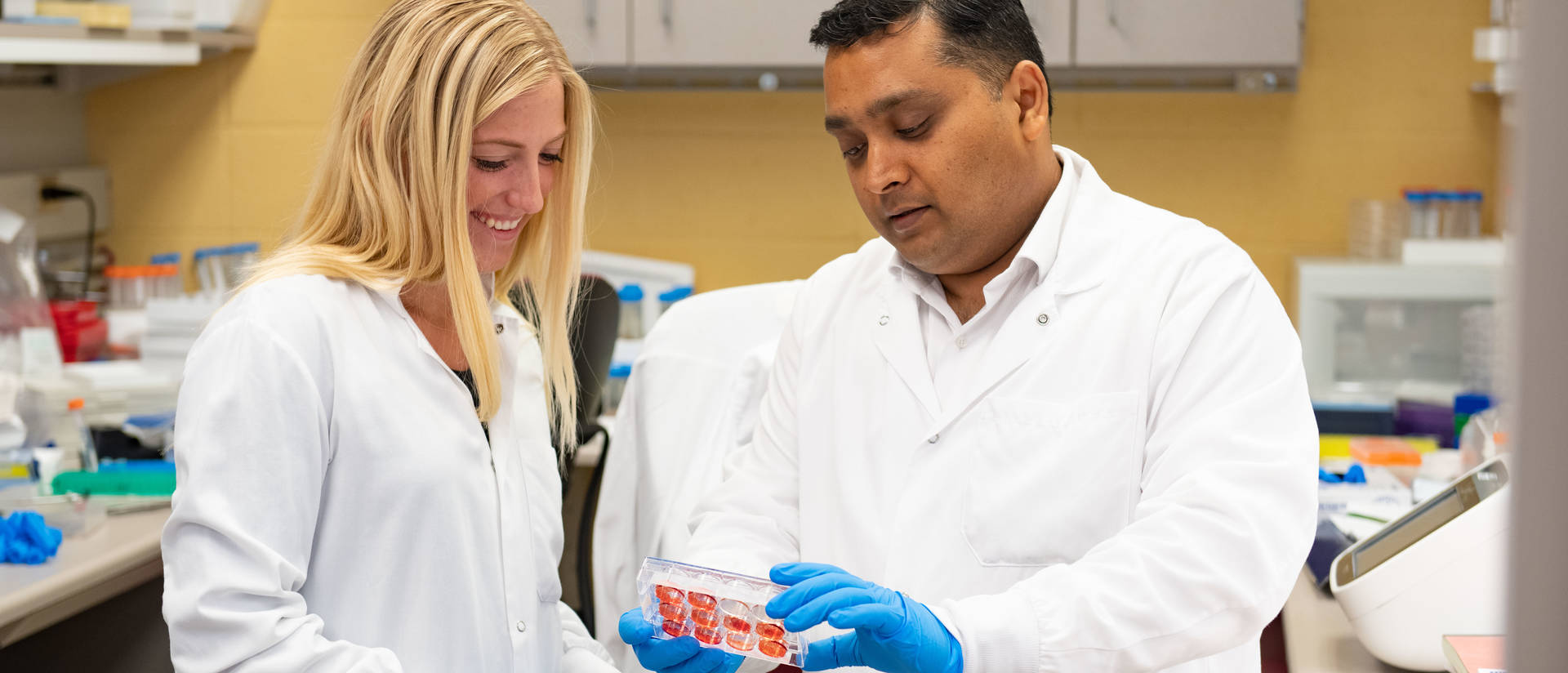 Scholarships to study with Mayo researchers
UW-Eau Claire's ongoing collaboration with Mayo Clinic Health System has made possible the fall 2020 launch of the Blugold Biomedical Innovator Program for undergraduates with an interest in pursuing careers in health care.
An annual cohort of 50 first-year students will be selected for the program through an application process. Those selected will have special opportunities to interact with faculty, apply for competitive research experiences, network with Mayo medical professionals, and work with experts and peer advisors in UW-Eau Claire's Health Careers Center throughout their college experience.
"These students will work alongside Mayo Clinic Health System physicians and scientists and award-winning UW-Eau Claire faculty on research projects and community health initiatives," says Dr. Tim Nelson, director of research and innovation for Mayo Clinic Health System and a UW-Eau Claire alumnus. "In addition, 10 of these students have been selected as our Innovator Scholars, making them eligible to receive $40,000 each in scholarships and summer work stipends over four years."
The following first-year students have been named as the first Blugold Innovator Scholars: Saige Tichy, Stratford; Quinn Petersilka, Eau Claire; Marshall Apps, Green Bay; Kira Haus, Elk River, Minnesota; Maya Frodl, Racine; Abbey Brakke, Brooklyn Park, Minnesota; Mikayla Hady, Mount Auburn, Illinois; Gillian Davis, Ellsworth; Gillian Rossmann, Valparaiso, Indiana; and Kati Sadowska, Marshfield.
Each of the 10 Blugold Innovator Scholars will receive an $8,000 annual scholarship, renewable for up to three additional years, and can earn up to $3,000 per summer while working on research. Starting their first semester, each scholar will partner with a UW-Eau Claire faculty member and Mayo Clinic Health System professional on a research project, and they will attend special Mayo Clinic events and receive one-to-one mentoring with Mayo physicians, medical students and UW-Eau Claire Health Careers Center staff.
"Our research collaboration with Mayo Clinic Health System has made this audacious opportunity for our students possible," says UW-Eau Claire Chancellor James Schmidt. "Each year, 50 Blugold students will have one-of-a-kind opportunities for mentorship from outstanding UW-Eau Claire faculty and practicing Mayo Clinic Health System professionals. It is exciting to see the power of this collaboration to help our students become the future health innovators we will need in our region and our state."